How To Optimize Your Mobile Site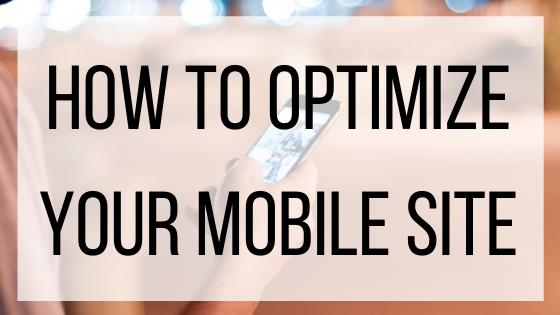 Since the introduction of smartphones, it seems as though customers' phones have become an extension of them. While screen time is an issue for many, being able to send text messages, order products, or search information is invaluable. With the ease smartphones bring to customers, it is important to make sure that your mobile site is up to par with today's standards. Often, customers will make purchases via their phone, rather than a laptop or desktop. In order to serve your customers in the best way possible and drive sales, make sure that your website is optimized for mobile.
Make It Simple:
Even the biggest smartphone has a much smaller screen than a computer. When planning your mobile site, make your pages as simple as possible. Not only does this make your job easier in designing the page, but it makes it much easier for the customer to view. Having too much on the page, tiny font or large files makes the page slow and cluttered. Instead, put everything clearly and simply on the pages that customers are looking for. Using mobile sites can be frustrating and glitchy, so aim to make the process as smooth as possible. If you're looking for inspiration, check out this list of the best mobile sites.
Be Smart:
Having to type on a small screen on an even smaller keyboard can be frustrating. Offer smart search suggestions, so that when customers start to type a suggestion pops up for them to select. Simplifying your check out process for returning customers is also a huge time saver and perk. Not having to type in personal information each time they check out saves them from a tedious process, and encourages them to come back and shop with you again.
Offer Easy Access:
Although it might sound like a little detail, having easy access to different pages makes a big difference. If customers have to go through hoops to get to the page they are looking for, it is very likely they will make their purchase elsewhere. The three-layer rule is one to keep in mind: only keep pages three layers deep. This means if a customer can go from your homepage to a subcategory, to the product page. The simplicity of this method allows you to keep everything organized while allowing them to arrive at their destination quickly.
Consider The Thumb Zone:
The thumb zone is the area on a touchscreen smartphone that is comfortable or "safe" for interacting with the screen. This area makes it easy for customers to use their screen with their thumb, rather than having to stretch uncomfortably or use two hands. As silly as that sounds, it can make a huge impact on your mobile site. You can look at a chart to best determine where the thumb zone is for both left and right-handed customers, and plan your site in the overlap zone. While you won't be able to fit your entire site in the thumb zone, try to keep important parts such as popular links, the navigation menu, and the homepage button within reach. Be mindful of the spacing as well.
Designing your best mobile site is not an impossible task, as long as you do your research and know what you're working with. Periodically test the site and have employees try it out on their mobile devices to catch any glitches it might have. Remember to keep it simple and uncluttered for an inviting shopping experience that will keep your customers coming back.