Building Your Brand In 3 Simple Steps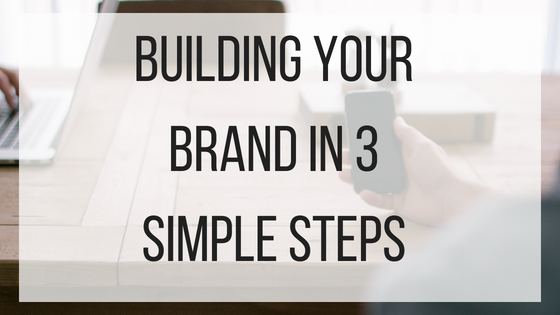 When starting an e-commerce store, it is important to build a brand along with building your company. While it is easy to start an ecommerce website, actually selling your products can prove to be a challenge. As brand loyalty is declining, it is more important than ever to build a strong brand that customers can trust. People like to buy from people they like, and creating a positive, unique brand image from the get-go can help you with customer retention and sales in the long run.
What is a brand? Everyone has a brand, whether you work to create your ideal brand image or not. This goes for small companies, big corporations, and even individuals. For your e-commerce business, Seth Godin summarized what a brand should be as this: "A brand is the set of expectations, memories, stories and relationships that, taken together, account for a consumer's decision to choose one product or service over another". Taking that information, you want to craft your brand to appeal to your customers in the most positive light. By formulating your brand ahead of time, you can control the message you are sending customers and foster a solid relationship from the very beginning.
Create a brand persona: Creating a brand persona can be a helpful way to make sure that you keep the same brand image across all of your mediums. This defines how strict your policies are, the tone in which you talk to your customers (casual, formal, friendly, or firm) as well as your visuals (what colors are you using, do you have photographs or graphics, etc.). As part of your brand persona, you will want to come up with a mission, company values, company vision, and your purpose. A mission is the essence of your business, For example, Patagonia has the mission statement "Build the best product, cause no unnecessary harm, use business to inspire and implement solutions to the environmental crisis." This speaks to not only their products, but their desire to help the environment. Your company's values are the principals that will guide you. They will help you make decisions that are best for your business, and help you grow. Vision consists of your ideology and where you predict your company will be in the future. Finally, your purpose will explain to customers why you created your business and why you continue to do what you do. These will help guide you as you create and develop your company, and allow customers to know what is important to you. Creating a buyer persona for your brand will also help you determine the type of customer you are targeting.
Distinguish your brand: Chances are, someone else on the market is selling a similar product. Find what makes your product or service stand out from the crowd- do you have different sizes or levels to meet customer's needs, are your prices better than average, do you put extra emphasis on customer service? Whatever it is you do best, make sure to let customers aware so they can experience it for themselves. Be confident in your product or service, and offer customers a satisfaction guarantee to ease their minds. Casper mattresses sets a great example of backing up their product with both a lifetime and satisfaction guarantee. Not only do they offer a 100 day mattress trial, but all of their mattresses come with a lifetime warranty. They also include many happy customer testimonials, including pictures from their Instagram featuring happy customers on their new Casper mattresses.
Make sure you are aesthetically pleasing: First impressions matter. When potential customers are looking into your brand, they want your website, social media accounts, and your packing to match your product and brand image. Taking time to decide on fonts, photo styles, and a color scheme can make a huge impact on your brand image. For example, if you are running a large financial firm, you do not want to have bright colors such as pink as your main color. However, if you are a makeup company primarily targeting women (such as Benefit Cosmetics) a pink website and fun fonts might be perfect for the brand image you are trying to project. You logo should also reflect your brand image and be easily recognizable. Coca-Cola sets a great example with their logo- it is simple, easy to recognize, and even when people change the words it is still recognized as the "Coca-Cola font".
Remember, your brand is a reflection of everything your company stands for and hopes to accomplish. Your brand image can grow and change as your company does. By letting the personality of the company founders and employees shine through, it will be simple to build a brand that your customers love and respect.