Unique Selling Proposition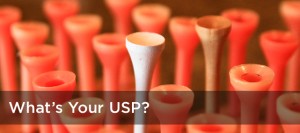 In an ever growing economy like today having a Unique Selling Proposition is an essential tool for your business. As previously mentioned in our July 3rd blog post, in order to attract customers, you need to have a Unique Selling Proposition (USP). But what exactly is a USP and how can you establish one that is going to work for your business? Before you can begin selling your product or service to anyone else, you have to sell yourself on it. If you cannot adequately sell yourself on your product or service, you are not going to win over any potential customers. A USP becomes critical when your product or service is in a highly competitive industry. Very few businesses to date are one-of-a-kind. By identifying the business trait that makes you unique, you can differentiate yourself from your competition. For most businesses identifying a USP is not easy, in fact, it can be very difficult at times.
So what should you consider when trying to identify your USP?
Get to know your customers & the real reasons why they buy your product or service over a competitor's
It is likely that many of your potential customers have a difficult time deciding which option in your industry is worth their time, money and trust. The selection process can be daunting especially for customers lacking the experience to know what truly distinguishes one competitor from another. This becomes your job to assist them by making your USP distinctive, authentic, and worth remembering. They need to be able to see exactly what your business has to offer that your competition does not.
Nonetheless, before you start thinking about which aspects set your business apart from your competition, you need to know exactly who you want to sell to and why. Too often, companies become consumed in their product or service and forget that it is the customer's needs, not their own, they need to satisfy. It is important for you to know why they buy from you. What is it that sets you apart? For example, BMT Micro sets itself a part, among other things, through our customer service and our advanced automated fraud screening services. We take great care to ensure the safety of all transactions through our system. Our vendors set themselves apart from their competition by offering multiple payment options to their customers for convenience and providing safe and secure transactions, as well as having a full time customer service center through BMT Micro.
Research your competition and explain how your business solves your customer's problems
One way to start is by examining how other companies use their USP to their advantage. If you examine what they sell and how, you can learn a great deal on how companies differentiate themselves from their competition. This requires a careful examination of other companies' ads and marketing messages. For example, if you have larger competition and they are beating you by offering a better price, you have to find another business trait that addresses the customer's needs. Once you have done that you can then build your sales and promotional efforts around that. You have to show your customers that your product or service can meet their needs and solve their problems. If they choose your product or service, how will that impact their life? What makes your business so different than the rest of the competition in your industry? Why should they choose you? The answers to these questions should structure the base of your USP.
Your USPs are very important to your customers and you need to be aware of them in order to retain these customers. It is also good to leverage your USPs when promoting your brand. However, keep in mind that you need to keep re-visiting your USP to ensure that it is still relevant and unique for today's competitive market. As we mentioned before, if the USP does not set you apart from the competition, then you will need to find a new USP to promote. The more you know about your customer, the better strategy you will be able to put together for your sales and promotional efforts. These strategies should be driven by emphasizing your USPs. Remember: A successful business is not just about having a unique product or service; it's about making your product or service stand out even in a competitive industry.
How can BMT Micro help our vendors stand out?
Once you have identified your USP, whats next? Your next step will be to start developing a strategy for your sales and promotional efforts. For our vendors, BMT Micro is able to provide assistance in this area. Recently we launched a Product Profile series on our blog highlighting and reviewing products for which BMT Micro acts as reseller or payment processor. We began the series with a post highlighting the software PMView Pro which you can reference here. By utilizing our Product Profiles, PMView Pro was able to feature their USPs and show customers exactly what their business has to offer that their competition does not. Product Profiles act as a third party resource for our vendors to emphasize their USPs for their sales and promotional efforts. Our goal for our vendors that participate in the series is to: increase their brand awareness, reach out to a larger audience for an increase in sales and reduce some of their marketing costs. For additional exposure, all Product Profiles will be shared on all social media platforms of BMT Micro. If you are a vendor and would like to see your product highlighted or reviewed, please contact us for more information!