The Rise of Multi-Device Consumers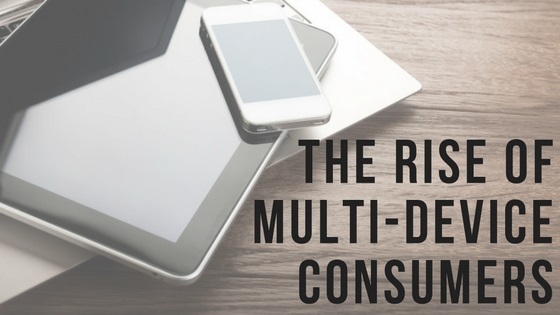 Over the last few years, there has been a major shift in how consumers browse, research and ultimately buy items online. With smartphones, wearables, tablets, laptops, and desktop computers, consumers have become hyper-connected, cross-device shoppers that browse and buy across all devices. According to Google, 65% of consumers start a purchase on their smartphone but complete the transaction on another device (33% of desktop transactions involve browsing on mobile prior to purchase). This is why it is important to understand the distinct patterns of how, when and why consumers reach for certain devices when browsing and making purchases.
Measuring all digital touchpoints
Today, online shopping experiences and purchase decisions are spread across multiple digital touch points throughout a consumer's entire day. For instance, it's not uncommon for someone to see a commercial for a product on TV, look up information about the product on their smartphone, and then switch to their laptop to make a purchase. But, these are also critical touch points for a business to understand where and how consumers convert. For example, a business should look at things like the device a consumer is originally targeted on and the device a purchase was made from. This will help identify what's working and what's not in a cross-device strategy.
Offering a Seamless Experience
It is becoming vital for businesses to deliver a consistent and seamless experience as consumers move between devices. According to the Adobe's Get Personal study, nearly 8 in 10 consumers (79%) report switching devices some of the time when engaged in an activity; two-thirds (66%) of device owners find it frustrating when content is not synchronized across devices. To avoid this, businesses should focus on consistently identifying consumers as they move from one digital experience to the next. This also helps ensure businesses deliver the right message no matter when or where a potential customer may stumble across their product or service.
Multi-device consumers bring new opportunities for businesses to engage consumers and drive revenue growth. By understanding a few basic concepts, businesses can capture an entire consumer journey and relate it back to a single user. This is a massive opportunity for businesses to better understand consumers behavior and effectively reach them across all devices.