10 Tactics To Avoid Holiday Scams and Attacks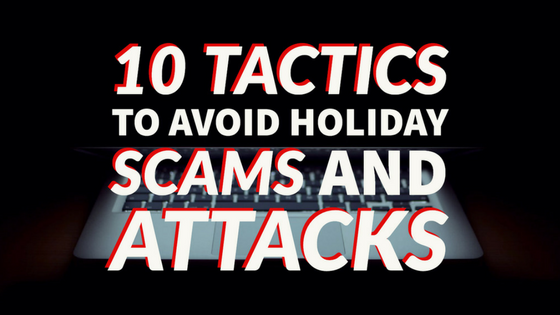 Today kicks off the biggest holiday shopping week of the year, but the start of prime cybercrime season. With revenue expected to surpass the $9.36 billion spent during this time last year, cybercriminals are also preparing their strategies to cash in on it.
From phishing emails to malicious links, the number of online attacks during this high sales season has been nine percentage points higher than the average number of attacks during the other months of the year. Fraudsters are going out of their way to create complex fraud schemes to target online shoppers, but they aren't the only victims. With attacks becoming more pervasive and sophisticated, online businesses also take a huge hit from holiday e-commerce fraud.
To protect your hard earned revenue and avoid holiday scams and attacks this season, consumers and retailers should keep these smart tactics in mind:
Be skeptical. If a deal looks too good to be true, it probably is. Also, don't click on suspicious links or attachments.

Require a strong password for customer's accounts. Fraudsters capitalize largely on the fact that most people don't use different passwords for different web services.

Create a limit on attempted and/or declined transactions.

You may also want to consider setting a limit on the number of purchases and/or total dollar amount you'll accept from one cardholder in a single day.

Be wary of large quantity orders, especially ones for expensive goods. This may not point directly to a stolen credit card or fraud, but it is still a good idea to contact the customer to verify the order and the legitimacy of the purchase.

Use an AVS (address verification system) and require the CVV (card verification value) to ensure the cardholder placing the order is in physical possession of a valid card. Also, use strong SSL (Secure Sockets Layer) authentication for web and data protection.

Install a trustworthy antivirus and keep your software up to date (including browsers, add-ons, plugins, desktop apps, etc.).

Employees should know how to keep data safe and how to deal with any potential hacking scheme. With this knowledge, they can start taking more control of privacy and security to avoid attacks.

Consumers should make sure a site starts with 'https' or has a lock symbol (these indicate it is encrypted) when shopping.

Consumers should only shop on secure wifi. Do not shop on insecure wifi networks like a coffee shop, airport, or any other public network.
During a peak sales season (like the holidays) fraudsters will do almost anything to monetize your online actions. For businesses, having the right fraud prevention system will greatly decrease the likelihood that your product or service will be taken advantage of or fraudulently used. For consumers, utilizing these tactics and being vigilant will help decrease your chances of falling victim to e-commerce fraud this holiday season.
Here at BMT Micro, our main goal is to ensure the safety of all transactions between our vendors and customers. Our advanced, proprietary fraud detection system is state of the art and effective in preventing almost all fraudulent order attempts. If you have questions or concerns about your current fraud prevention or if you are interested in learning more about BMT Micro's offerings please contact our vendor services at vendors@bmtmicro.com.