Steps For Planning Successful Promotions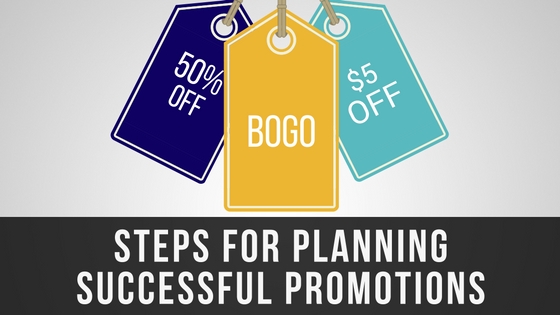 With all of the promotional clutter, the success of an online promotion heavily relies on the amount of effort made before its launch. Arbitrary promotions are revenue draining and have minimal benefit. But, well thought out promotions can grow a customer base, improve relationships and boost sales.
There is much more to running a successful promotion other than price reduction. For a promotion to be successful, you should consider the following steps:
Step 1: Create Objectives
As soon as an idea for an online promotion enters your mind, you should start creating a list of objectives. Objectives for a promotional campaign need to be in terms of long or short-term or split into primary and secondary goals. A primary goal should be the reason you are running the promotion and secondary goals are the additional benefits. For example, if purchases have dropped, your primary objective could be the need for additional sales. Your secondary objectives for this could be to reduce inventory levels or drive traffic that increases awareness. Keep in mind; your objectives must be measurable.
Step 2: Identify Your Audience
Identifying the right target audience for your promotional campaign will result in a greater return on investment (ROI). You should also use your objectives as a guide for this. Segmenting your audience will help identify who are best equipped to achieve your primary objective. For example, you can segment your customers by collecting data on things like location, age or preferred payment method. Overall, the more information you collect, the more intel you will have to apply to your promotions.
Step 3: Select a Timeline
Before you launch your promotional campaign, you need to select a start and end date. This will help with preparation and allows you to take better measurements. Also, if something is marketed as a "limited time offer" customers will feel a sense of urgency, which will encourage them to act quickly.
Step 4: Perform a Pricing Analysis
One of the most important steps for your bottom line is performing a pricing analysis. A successful online promotion is not based on randomly picking numbers for discounts (like 20% off). It's important to look at the margins of the products that are going to be discounted and subtract the discount amount from the total. Ultimately, you will have to decide how much you are willing to sacrifice for a promotion budget.
Step 5: Establish Your Promotion Mix
Once you've established a target audience and selected a timeline, you will need to plan how you are going to reach your audience. Your message needs to be consistent and cohesive across all of your communication channels: email, social media, display ads, landing and checkout pages. This will increase awareness and the odds that your promotional campaign will succeed.
Step 6: Evaluate Results
You will need to create tracking links for each of your communication channels so you can measure how well each one performed. Also, you will want to ensure your promotions are running correctly. You can do this by running test emails and ensuring links take customers to the right pages. By paying attention to the results of your promotions you can learn what works and what doesn't for future planning.
When promotions are successful, they have a significant impact on revenue and help build a loyal customer base. By utilizing these steps when planning your next promotion, you can greatly increase your efficiency. Keep in mind; different promotions have different effects on revenue, so try several kinds to determine what works best for your business.