Spring Cleaning Tips For Online Businesses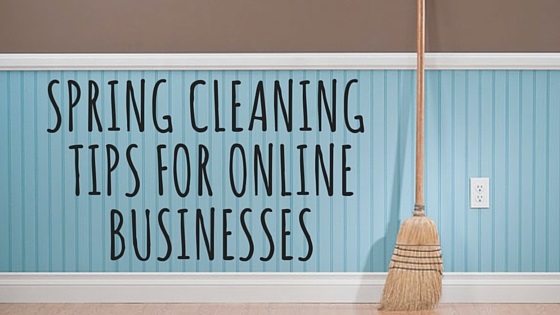 Spring is coming! At least, that's what Punxsutawney Phil says. The groundhog did not see his shadow this year, so an early spring is on the way. After months of cold temperatures and gray skies, consumers are ready to shake off the winter blues. Now that the holiday season is over with, it is the perfect time to make some changes and do some spring cleaning for your online business. Spring cleaning can bring great benefits to any business but the hardest part is getting started. To help with this, we've made a list of our favorite spring cleaning tips for online businesses. We hope with these suggestions your business will be ready to take off with spring sales.
Check for 404 errors and broken links on your site, social media, blog, etc.
Make sure Google Analytics is installed on your site and tracking properly.
Review your SEO and make sure it is clean and polished. Also, take a look at how your site shows up in search engines and rework your meta data (if necessary).
Make sure everything on your site is current. Check out things like your copyright date, images, recent news, contact information, and so on.
Get some fresh eyes to read through your site content to find any grammar or punctuation issues.
Try a flash sale or giveaway on new items to help create interest around upcoming products.
Review the profiles and accounts you follow on your social platforms and unfollow inactive and/or irrelevant accounts.
Freshen up your social accounts with a new profile picture and/or cover photo.
Check all of the information on your social accounts to make sure it does not need updating.
Think strategically about the social accounts you have and need for your business. If there is one that you do not utilize as much or you no longer see a need for, delete it.
Clean up your email lists and remove any contacts who have never engaged with you, or have not done so in the last three months.
These are only a few of the many items your business can spring clean, but they are a good way to warm up and get started. A thorough spring cleaning is vital and by spending just a little time each day tackling these tips, your business will have a cleaner website, lists, and profiles. Not only does spring cleaning help your business see what your site is lacking and needs to be updated, it also is an opportunity to fully embrace the spring cleaning motto: "out with the old, and in with the new."