Spread The Love With Customer Appreciation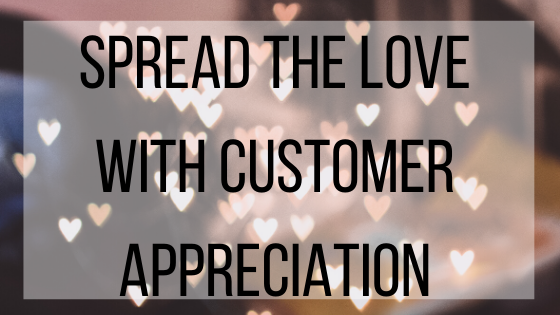 Time and time again, you hear that customers are the heart of your business. Chances are, you love them and they love you back. Building a solid relationship is wonderful for both you and them. Offering them great products at reasonable prices is the best way you can show them that you appreciate them, but go above and beyond this Valentine's Day to really spread the love.
Why Customer Appreciation Is Important:
Wondering why offering great service isn't enough? Going above and beyond for your customers is expected nowadays. Aside from giving you an edge on the competition, it also helps you gain customer loyalty. Thanking your customers for purchasing from you and being available for their questions is a great start, but not enough to keep them with you. Here are some great examples of customer appreciation to consider for your business.
Handwritten Notes:
Although it sounds old-fashioned, receiving a handwritten note with a product is a cost-effective and eye-catching way to let customers know that you appreciate their business. These notes do not have to be long or excessive to make a big impact. Take Casper for example- They sent a customer a note with his new mattress purchase, amplifying his excitement in receiving his new product. Chewy is known among pet lovers for their overall excellent customer service but especially their handwritten notes. The pets will receive a holiday card each year as well as a birthday card for those registered with Chewy. While this doesn't take much time or money from Chewy, it has made quite the impact with pet owners, many of who will go out of their way to purchase from them.
Launch Loyalty Programs:
Loyalty programs are fantastic for retaining customers. It encourages customers to continue shopping with you by awarding them points or other incentives, which they are typically allowed to cash in for free or discounted items. Starbucks has a reward program popular with their customers that allows customers to earn "stars" on purchases. Stars are then redeemable for drink and food items. They will often offer incentive "challenges" to encourage customers to try new drinks for extra points during a small time frame and offer a free treat of any cost on their birthday. If you sell items at a higher price point, consider using a points system to let customers earn discounts rather than free items. You can even offer rewards for referrals so they will be encouraged to share your products with their friends!
Feature Customers:
Featuring customers on your social media has several benefits. First of all, people like to be seen (with their permission). Asking customers to use a certain hashtag and to tag you in their pictures helps draw your attention to real customers who are using your products in their personal lives. It helps you create free organic content, and allows other customers to see the products in use. Featuring your customers also encourages them to photograph their products and share the pictures on their own social media, allowing you to reach an even wider audience without having to do much at all. Plus, seeing the smiles on their faces as they enjoy your products is sure to brighten your day!
Send Small Gifts:
Sending little gifts with purchases can be very cost-efficient and brighten your customer's day. Adding little touches with something as simple as stickers can be an unexpected treat that your customers notice. You can also offer bigger gifts, such as tote bags or a travel size sample of a product, after the customer spends a certain amount.
Showing your customers how much you appreciate them can be an easy and fun process, so spread the love this Valentine's Day! What is your favorite way to show customers how you appreciate them? Let us know in the comments!