SEO vs. Content Marketing
The most basic definition of SEO means finding ways to increase your site's appearance in web visitors' search results. This in turn should generate more traffic to your site. Basic search engine optimization is essential to help position your website properly to be found when current or potential consumers search for your site. We discussed in our April 22nd blog that the algorithm search engines such as Google use to determine your ranking continues to change. So, what exactly are search engines looking for in 2015?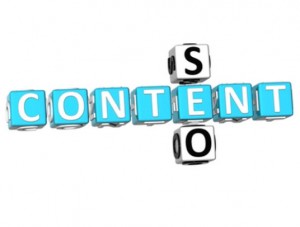 Google has made many changes to their algorithm over the past few years, and now that 2015 is here, these changes are only increasing in frequency. It is no secret that Google wants to provide its users with the best, highest-quality content found on the web. The problem is too many internet marketers have been looking for the short-term win (from keyword stuffing to spammy link building). Those short-term wins actually went against Google's goal of pleasing the user and have been classified as black-hat SEO techniques. These "black-hat" practices made Google.com less appealing to the general public and resulted in bad search results which ultimately lead their users to explore other search engines.
How has Google responded? Content is continuing to become more and more important in SEO. Google even finds content marketing important enough to base algorithm updates on. Google responded to the "black-hate" practices with their Panda and Penguin updates. But how do you pass the Panda and Penquin test with your content marketing? Google's Panda update is a search filter meant to ensure that quality content wins and penalizes "thin" or poor content from ranking well. Panda looks for fresh and quality content on your site. Panda also penalizes websites that sit stale so if you are not creating content at all, you are not safe from Panda. Once you win the battle with Panda, you are now on to the Penguin test. Even if you are producing fresh content to your audience on a regular basis you are not in the clear with Google. Google's Penguin update targets spammy websites, in particular those that are using black-hat SEO techniques.
So how do you stay on Google's good side when it comes to your SEO efforts? This is where your content marketing comes into play. By implementing a quality content marketing strategy and producing compelling, useful content on a regular basis, you can create a solid foundation to support your SEO efforts. We have provided you with a few things to keep in mind when analyzing or developing your SEO and Content Marketing efforts.
Content Quality
Do you provide a reason for people to spend time on your site when reading your pages? Do you offer real value to your visitors that they won't find on another site? Having well-crafted content is crucial for your website if you want to attract traffic and drive conversion.
Content Research
What keywords do people that are genuinely interested in my site use when searching? What keyword phrases are currently driving traffic to my site? How often do people search for certain keyword phrases? The process of picking the right keywords is one of the most important parts of SEO. You want to create content using keywords people are using when searching the web.
Content Words
After doing your keyword research, have you actually used those words in your content? If you want your pages to be found for your particular keywords, it is a good idea to actually use those words in your content.
Content Engagement
How long do users stay on your site or a page on your site? Do they 'bounce' back to their search results to try something else? Quality content should produce meaningful interactions and engagement with users. Metrics like bounce rate and sessions length allow search engines to determine how pleased a visitor is with the result.
Content Freshness
Is your content out of date? Has your site earned any new inbound links? A site that hasn't been updated in months or years will result in lower content quality. Without a good freshness factor, it is likely search engines will pass over your site for newer, more current content.
Google and other search engines are leveling the playing field as they get smarter and smarter. Content is still king and you will continue to hear that phrase over and over when it comes to SEO success. Like any marketing technique, you will need to test different approaches to see what works best for your company and continue to improve. If you are a vendor with BMT Micro and you need help with your SEO or Content Marketing efforts, we may be able to help. If you would like to learn more about the services we offer, please contact our Marketing Specialists via email at leah@bmtmicro.com for more information.