Retaining Your Holiday Shoppers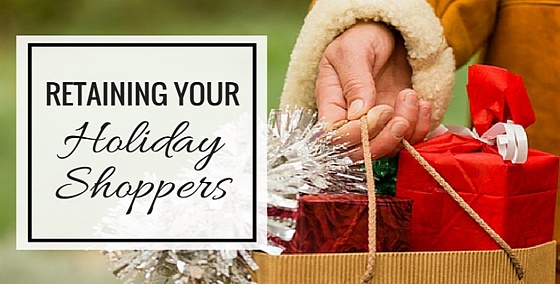 The holiday selling season is a crucial time for businesses and each new sale is a big deal. However, holiday sales are traditionally viewed as one-time transactions, and few businesses put effort into winning holiday shoppers loyalty to retain them for the long term. As a result, businesses are missing out on a huge opportunity to turn one-time shoppers into year long shoppers. Completing a holiday sale should not be the end of the process but rather the beginning of working to earn a loyal customer.
Businesses should make an effort to directly engage consumers since holiday shoppers tend to be more receptive to new brands during this time of year. To develop loyalty with new customers, businesses need to understand the importance of developing a marketing strategy that goes beyond the holiday selling season.
The following are a few strategies that can be implemented to build long-term relationships with holiday shoppers:
Give holiday shoppers incentives to come back
Customer retention starts with satisfaction. Chances are if a shopper has a great buying experience with your business, they will be more likely to shop with you again. To entice these customers to become repeat shoppers, offer them a discount or reward they can use on a future purchase.
Target shoppers that buy again for themselves
There are many holiday shoppers that buy gifts for others that they might be interested in themselves. The holidays can also be an extremely stressful time for shoppers. This is where a business has an opportunity to promote shoppers to treat themselves after shopping for others and self-gift. Self-gifting has been popular for years and after shoppers have spent countless hours buying for others, they want "me" time to spend money on things they really wanted.
Post-purchase email series
Even after the holidays, people are still looking to buy because many will have received gift certificates, cash or even pre-paid visas over the holidays. There are also some holiday shoppers that are going to forget that they even purchased from you. This is why it is important to get back in touch with your customers and create a post-purchase email series. To get the most out of your efforts, this series should be automated, personalized and optimized so you are frequently learning and updating based on customer's behavior.
If you want your business to be remembered as more than just an option for holiday gift giving, it is crucial to develop a marketing strategy that will keep your sales going after the holidays. Give customers something to look forward to after the holidays and start the New Year off with a loyal customer base!