Resolutions To Help Grow Your Online Business in 2018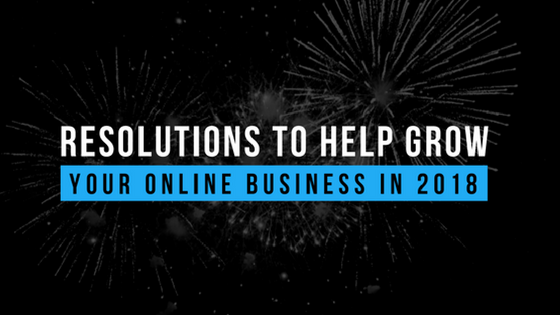 With the 2017 holiday season coming to an end, New Year's resolutions are now in full swing. Unfortunately for many, the resolutions they set won't last past the month of January. But, this doesn't have to be the case for your business.
The New Year always brings a fresh start, and we all have the potential to do something different to bring about positive change. While some may choose to continue their old patterns and behaviors, 2018 can be the year to make some powerful changes in your online business.
Here are a few resolutions to help grow your online business in 2018:
Identify Problem Areas
Having your own business means you have to learn how to identify problems, especially as your business grows. Take the time to look back at the past year and address problems, areas of improvement, and what did and did not work that year for your business. This will help you be more productive and prevent bigger problems from forming later on in the year.
Set Clear Goals
Outline your business goals for the year. Your first step should be to assess your recent efforts and determine where you want your business to be this time next year. This will help you focus on what needs to be done to make all your goals and long-term objectives possible.
Make A Plan
You also need to include a plan with the goals you set for the new year. Creating a plan will help you prove that a goal is achievable and clearly define what you need to do to attain it. Also, your business is more likely to accomplish goals if you know where to start and what steps are needed.
So what are you waiting for? Start 2018 off by setting resolutions that will help grow your business and make it your most profitable year yet!
The New Year is also a great opportunity to review current relationships with anyone your business is working with. Having the right E-commerce partner can be an enormous help when you are looking to grow your online business and create a solid strategy for your sales. Here at BMT Micro, we're all about giving you the right tools to successfully sell online. And, our digital commerce platform is designed from the ground up to be intuitive and trouble-free. If you would like to learn more about our services or if you have questions about how we can help your online business, please feel free to contact our vendor services via email at vendors@bmtmicro.com or visit our website at www.bmtmicro.com.