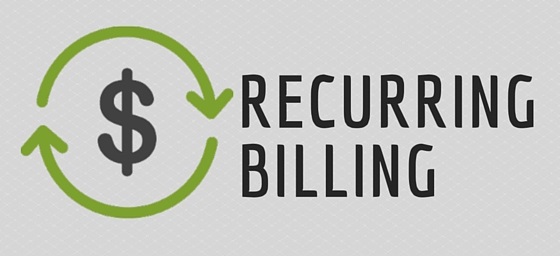 Recurring billing has become one of the hottest strategies in digital marketing since consumer buying habits are now trending more toward simple and hassle-free shopping experiences. When businesses set up products or services as recurring billing/subscriptions they are able to have a continuing relationship with consumers since the business-customer relationship does not end with the swipe of a credit card. But this business strategy is also fairly new to many consumers. So before a business jumps into using a subscription business model, a thorough explanation may be needed since some consumers may not be familiar with how recurring billing works.
Let's Start With the Basics
Recurring billing, or also known as the subscription business model, is a payment strategy that is used to regularly charge or bill customers a recurring fee for services rendered or products sold based on the frequency set (monthly, quarterly etc.). This strategy helps online businesses attract more customers, retain them for a longer period of time, and ensures they get billed regularly which leads to a more consistent cash flow for a business.
Will this work for my business?
Recurring billing has been proven to work for both physical and digital products, so there is no need to worry about the ability to adapt this billing method for your business. But to be realistic, there is always a chance a subscription model is not going to work in some businesses. It is also important to note that to successfully launch a subscription business model, you most likely aren't going to be able to do it all on your own. It is not easy to start your own subscription service due to the complexity in recurring billing development. It is best to find a subscription-solution service or e-commerce platform that can help your business. When seeking a subscription solution, the following are a few basic features you should expect:
1. Easy to manage
2. Allows credit cards to be charged, re-charged or refunded
3. Ability to safely store credit card data and customers sensitive information on secure servers
4. Ability to handle both recurring and one-time transactions
Other services or platforms may offer advanced features like additional payment options and customer service. It is important to do thorough research beforehand to determine what your business will need when searching for a solution. There are a variety of subscription solutions and e-commerce providers for your business to choose from, so find one that meets all of your business needs.
Here at BMT Micro, our system allows products to be set up as recurring billing/subscriptions where our system rebills the customer automatically based on the frequency set in the product (monthly, quarterly, etc.). Subscription products can also be set up to allow for discounted subsequent billings, credits towards other products and/or reduced-price purchasing of other products. We are a full-service e-commerce provider and aim to be more accessible & dependable than the average e-commerce platform. Here at BMT Micro we have all the tools your business will need to run a successful subscription program and more. Get started with BMT Micro today and we'll take care of rebilling your customers when necessary so you can concentrate on growing your business. To learn more please contact our vendor services at vendors@bmtmicro.com for additional information.
Overall recurring billing is an excellent business model for both the business and the consumer. It makes your customers' lives easier by providing them with a hassle-free payment method and it ensures they get billed regularly, which increases your revenue.