Pros and Cons of Affiliate Marketing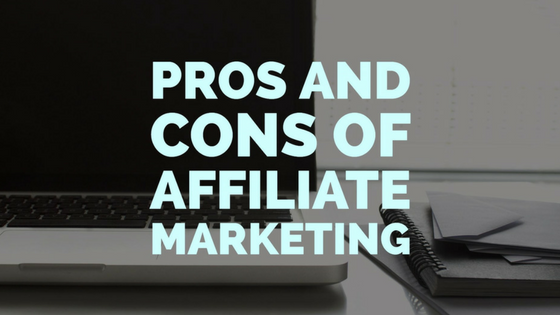 Affiliate marketing can be an amazing sales channel for a business, especially an online one. When utilized correctly, it has been proven to be an effective way to market products with little or no cost. Affiliates can ensure the right messages get to the right people at the right time by capitalizing on the following they have.
What is Affiliate Marketing?
Affiliate marketing is a type of performance-based marketing in which a business rewards one or more affiliates for each visitor or customer brought by the affiliate's own marketing efforts. The industry has four core players: the merchant (also known as 'retailer' or 'brand'), the network (that contains offers for the affiliate to choose from and also takes care of the payments), the publisher (also known as 'the affiliate'), and the customer.
Affiliate marketing is commonly confused with referral marketing. However, both are distinct forms of marketing and the main difference between them is that affiliate marketing relies purely on financial motivations to drive sales while referral marketing relies on trust and personal relationships to drive sales.
How affiliate marketing works:
Affiliate is assigned a tracking ID – This is to track which affiliates are driving traffic and sales.
Affiliate promotes your company with affiliate link – Through paid traffic, email blast, blog post, etc.
Customers or leads are acquired on affiliate site – The link directs traffic from the affiliate's website to the merchant's site. This is how the merchant identifies which affiliate the user has come from.
Affiliate receives a commission – If the visitor purchases a product, the affiliate tracking ID is stored with the order information and used to pay the affiliate their commission.
Pros
Most affiliate programs are run through CPA (cost-per-acquisition) model, which means you only pay for performance.
Increases the volume of web traffic to your site.
Having a strong affiliate network can also bridge the gap between your home market and entering new, emerging markets.
Cons
High Competition – One of the advantages of affiliate marketing is that is easy to sign up and get started. But, this can also be a disadvantage since it is easy for everyone (including your competition) to do likewise.
Starting your own affiliate program can be costly – there is a definite advantage of working with an established affiliate network rather than trying to manage a program on your own.
In the end, affiliate marketing is a system that creates a win for all involved. It can bring a unique opportunity for your business to increase site traffic, customers, and revenue.
Here at BMT Micro, we encourage all of our vendors to participate in the BMT Micro Affiliate Program. This free service provides developers with additional channels to promote and distribute their product. Plus there are no additional fees involved! You pay only the affiliates for this service. The developer control panel includes administrative tools that allow you to manage affiliate sign ups, percentage and view sales reports from your affiliates. You also can email your affiliates all at once if and when you have important information to share. Furthermore, BMT Micro handles all your payments to your affiliates. There are many benefits to joining an affiliate network from reliable merchants and the more you utilize the affiliate network, the more profits you will see!