Preparing For The Holiday Season: Checklist To Jumpstart Success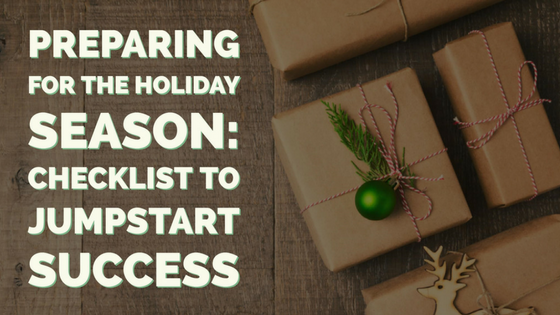 Has your business begun to prepare for the upcoming holiday season? If not, you are going to be behind.
According to a recent Campaigner survey, 51% of business owners have already started their holiday preparation. It may be difficult to start thinking about the holidays right now; but, one-third of those who began preparation before last September saw a very successful holiday season than those who started later. So, if your business is wanting to capitalize on the lucrative fourth quarter you need to get your checklist ready and start preparing now.
Is your website ready?
Web traffic is going to increase during the holiday season. Is your website up to speed? Can it handle large volumes traffic? In order to offer the best shopping experience possible, your website performance is crucial. Planning ahead can ensure every aspect of your website is in place for the holidays.
Are You Offering Enough Payment Methods?
Now is also a great time to start considering any additional payment methods your business may want to offer. Would your business benefit from adding PayPal as an option? A small change like this can attract a larger audience to your business and even boost your conversion rate.
What Holidays Fit Your Marketing Strategy This Year?
Nearly every week in November and December have a holiday your business can participate in. You need to start deciding which ones make the most sense for you to participate in. Once you do this, the next step is to start planning your most efficient marketing actions (like email marketing, social media integrations, display advertising, etc.).
What Type of Promotions Will You Offer?
Preparing content and promotions ahead of time is one of the most useful things your business can do for the holiday shopping season. 62 percent of business owners found success by doing this during last year's holiday season. Focus on creating compelling content and offers. These can reward your loyal customers, and also rejuvenate interest in your brand.
Are You Personalizing Content?
Personalization offers an opportunity for your business to connect with customers on a more personal and in-depth level. This type of marketing can enable you to reinvent your shoppers online shopping experience this holiday season. It can also result in higher conversions and ROI. Start finding ways your business can connect with customers based on the information they share with you now.
Holiday sales reached $658.3 billion dollars last year, and more than 154 million consumers shopped in store and online just for the last Black Friday. Take full advantage of the most profitable time of year and begin your preparation now.
Here at BMT Micro we can also help better prepare your business for the quickly approaching holiday season. Our system can be used to set up many different discount schemes, offer multiple payment methods to your customers, and our highly trained customer service staff is here to assist your customers with the ordering process. We have also already taken the steps necessary to ensure we are able to maintain our services at the highest level and our vendors are able to get the most out of their holiday season. If you would like to learn more about our services or if you have questions, please feel free to contact our vendor services via email at vendors@bmtmicro.com or visit our website at www.bmtmicro.com.