Most Effective Types of Digital Advertising in 2018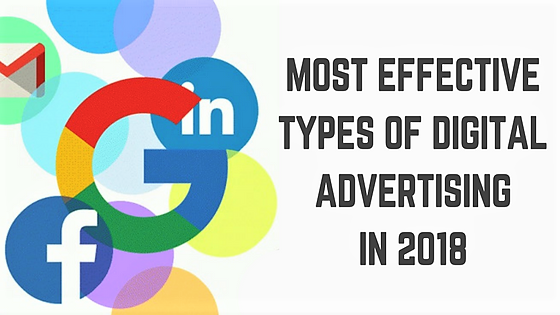 Digital advertising has evolved since its beginnings where businesses were limited to simple banner ad placements. Now, there are more than a dozen types of advertisements online. And, "consumers these days give more preference to online ads than any other medium" (source).
Digital ad revenue continues to grow and online advertising has become one of the fastest growing ways to reach an audience. Year after year businesses strive to get the biggest ROI from their advertising spend. But, which channels are effective? Which ones are worth your attention and will actually obtain positive ROI?
While there's no one type of digital advertising that is universally appropriate for every business (it really just depends on the type of consumers you are trying to reach and how). Here are a few options that can give you the best results in 2018.
PPC Advertising
Pay-per-click (PPC) advertising is one of the most effective ways to quickly generate leads and grow your business. This type of advertising places your ad as a "sponsored result" at the top or on side of search engine results. With PPC, you only pay for each click made on your advertisement.
PPC ads are highly personalizable and can be tailored to appear when specific search terms are entered. It is also best practice to monitor PPC campaign settings and data on a regular basis. This can help save your advertising dollars tremendously.
Display Advertising
Display ads are the original form of online advertising. These visual advertisements can be placed on a variety of third-party websites related to an industry or product. They have also evolved into a wide array of formats such as text, images, video, flash and more.
Display advertising is most effective when ads are optimized to target specific audiences across multiple devices and channels. But, it's important to note that they do not produce the same impact as PPC ads (display ads often produce a lower click-through rate than PPC ads, but usually carry a lower CPC).
Social Media Advertising
Social ads generally follow Pay-Per-Click or Pay-Per-Impression models. Social networks can provide some of the most highly targeted ads available (based on specific interests, behavioral interactions, and other custom targeting) just by utilizing their user information. For example, Facebook's targeting options include age, region, interests, educational background and more.
Social advertising is a great opportunity to deliver relevant and engaging messages on channels your target buyers spend the most time on. Social ads can also provide a huge increase in conversions and sales with a lower cost of acquisition.
No matter which channel(s) you choose to invest in, always ensure you are providing the best user experience post-ad click. The single largest determining factor of your success will be in the quality of your ads.