Go Global by Joining an Affiliate Program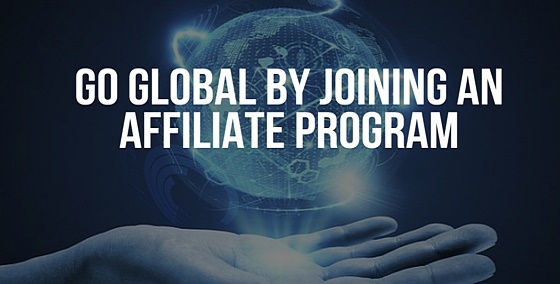 The final results are in for the November holidays and Adobe Digital reported that online spending on Thanksgiving Day through Cyber Monday in the US reached $11 billion (a 15% increase from 2014). Online spending outside of the US contributed a small but growing percentage of sales, especially on Black Friday. Global e-commerce is expected to grow nearly 21% worldwide to $1.59 trillion as online businesses continue to expand to new geographies. And when you sell digital products you have a huge advantage since you can sell anywhere in the world, especially if you have a great e-commerce partner.
However, the move to international commerce is perceived by many businesses as expensive and risky. Some businesses even feel that the amount of research involved and the local knowledge necessary for success is just not worth all the effort. So, is there a way for an online business to promote their brand and sell their products globally without a significant investment or financial risk?
The answer is yes, it can be done with affiliate marketing. When most businesses are looking to expand internationally, a primary barrier of entry is cost. Because of this assumed financial investment, many businesses are hesitant to go international. But, this is where affiliate marketing can really deliver for a business, especially an online one.
Affiliate marketing can be one of the best methods of entry into the $1.5 trillion global e-commerce market. Having a strong affiliate network can also bridge the gap between your home market and entering new, emerging markets. The wealth of knowledge your affiliates can provide is one of the most important benefits to affiliate marketing in foreign markets. And an online business can easily break through borders by leveraging their affiliates ability to reach local audiences in their native language. Ultimately, affiliates can ensure the right messages get to the right people at the right time by capitalizing on the following they have.
Affiliate marketing is a system that creates a win for all involved. But there is a definite advantage of working with an established affiliate network rather than trying to manage a program on your own. It is imperative to choose an affiliate network with the ability to pay affiliates in their local currency (even if the transaction was made in US dollars) if you want to recruit the best local influencers. Also make sure that the network offers your business the ability to report and process transactions in local currency and automates conversions for you.
Here at BMT Micro we encourage all of our vendors to participate in the BMT Micro Affiliate Program. This free service provides developers with additional channels to promote and distribute their product. Plus there are no additional fees involved! You pay only the affiliates for this service. The developer control panel includes administrative tools that allow you to manage affiliate sign ups, percentage and view sales reports from your affiliates. BMT Micro also handles all your payments to your affiliates. There are many benefits to joining an affiliate network from reliable merchants and the more you utilize the affiliate network, the more profits you will see!