3 Effective Growth Strategies For SaaS Businesses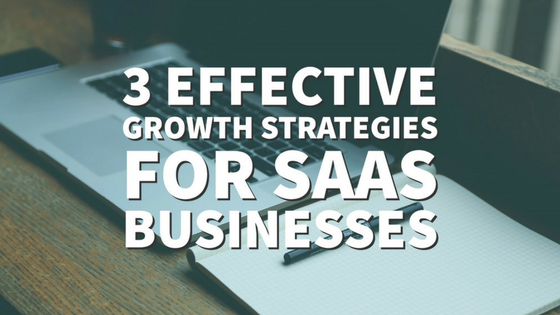 Software as a Service (SaaS) growth provides a unique challenge when compared to most other online businesses. In theory, the SaaS business model is arguably one of the most profitable and scalable types of businesses today. But, it requires a large focus on the growth of new business and retention of current users to achieve profitability.
If you have spent a lot of time coming with a unique SaaS business, the last thing you want to do is waste time, money and effort on growth strategies that don't work. You need the right tools and tactics to help power your SaaS business to the next level. The following are 3 proven strategies to grow your SaaS user base and revenue.
Referral Marketing
One of the biggest challenges for SaaS businesses is retaining customers and keeping them engaged. Referrals can positively impact user engagement and retention as well as improve customer acquisition. For example, when Dropbox first started, they implemented a referral program where they gave away extra storage for every friend you brought on board. Though Dropbox's approach was simple, it was highly effective. Today, Dropbox has millions of users.
Key Takeaway: Referral marketing can help SaaS businesses at all levels of a sales cycle and significantly increase CLTV. Think about ways you can get your own customer involved in marketing your business for you. You can consider giving away something that directly connects to what your SaaS offers. But, the best advice is to test what drives the best results for your business and then optimize for that.
Try Before You Buy
Offering a free trial is a common SaaS marketing strategy. Most SaaS businesses offer some type of free trial, but the strategy is only as good as how far it gets you with prospective customers. If you are looking for higher conversion rates, you cannot just "go through the motions" when offering a free trial. An effective free trial strategy needs to move prospective customers from where they perceive value to where they realize the value in your software.
Key Takeaway: A free trial can get more people to try your SaaS and convert to long-term customers. But, you need prospective users to see the value in what you offer. Remember, just having a free trial does not guarantee anything until users see the value.
Optimal Customer Experience & Support
Can great a customer experience and customer support drive growth? The answer is yes! According to a 2016 McKinsey report, customer success efforts accelerate revenue growth and decrease customer churn. Happy customers provide referrals and are also willing to pay more to ensure a good customer experience. Keep in mind; customers are 4 times more likely to stop doing business with a company for a service-related issue over pricing or product concerns.
Key Takeaway: Customer satisfaction is key for growth. Poor customer service can destroy your average customer lifetime value. This is true for any business, no matter where you are or what kind of products or services you are offering.
SaaS businesses that focus on building customer loyalty and engagement will be well-positioned for growth. We recommend you test, analyze, and optimize strategies that work for your SaaS business. Some growth strategies may not work for you, but don't be afraid to try something new!