Crowdfunding – What is it? How can it help my business?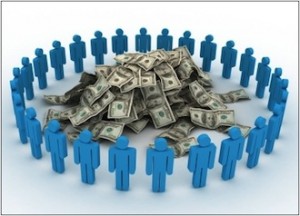 Crowdfunding is a relatively new practice of funding a campaign or venture by raising money from a large number of people, typically through the Internet. There isn't a set amount of money each person is asked to donate. Each person could donate anywhere from $1 to $100,000 and beyond if they would like. Crowdfunding efforts are typically promoted through social media. Mediums such as Facebook and Twitter are very popular sites for promoting crowdfunding efforts. A lot of them are around personal fundraising, for things such as medical costs. However, a new trend has been to use crowdfunding for startup companies. Companies set a target monetary goal that they believe will help them get their company off of the ground. Usually they give donors gifts if they donate a certain amount of money. There have been many success stories for aspiring entrepreneurs out there, but it isn't always as easy as it looks.
As you see more and more small companies successfully reach their funding goal, you may start to consider using crowdfunding to fund your startup, but before you jump in, we have some advice on how to make your campaign successful. Whether you are looking to raise a small or large amount for your business, a strong support system is necessary to be successful. We will discuss some challenges you may face when using a crowdfunding campaign.
All of the crowdfunding sites essentially serve the same purpose, a platform for raising money from multiple donors, but not all of them are best for any scenario. There are platforms like gofundme.com or Kickstarter.com that are great for individuals raising small amounts of money for personal needs. However, for startup businesses, there are sites that are solely dedicated to equity crowdfunding which would be best for entrepreneurs looking for large amounts of money. For new entrepreneurs, the biggest challenge is finding investors to fund you; however, there are a large amount of investors who are looking to invest in startup companies like yours and using the right site will allow you to reach them. It is important to do research on the different crowdfunding sites and make an educated decision to choose the one that makes the most sense for your fundraising needs.
After seeing many others succeed in their fundraising efforts, many entrepreneurs tend to think that it will be an easy task. This is not always the case as some do not meet their fundraising goal, but it is possible with planning! There is typically a time limit set on the fundraising efforts, so it is important to make a plan and decide how long it will take to raise an exact amount of money. You need to first determine how much capital you will need to raise for your business goal. You need to establish what the end goal of your crowdfunding venture will be and tie a monetary target to that goal. Also, you need to be prepared to extend your fundraising efforts beyond the site to an event or meetings with investors. This will create momentum for your business.
The next thing you need to do is gauge how much interest there is in your business venture. This should go beyond your family and friends. If you are looking for a large amount of capital, you need to have a strong following and interest from potential investors. This needs to happen before you even start promoting your campaign. It is a process that requires time and planning but it will make the campaign run a lot more smoothly. You will want to reach out to your personal network of friends, family, acquaintances, etc. to ask for assistance in spreading the word. There also needs to be a specific call to action for whomever you are reaching out to. If there is not a specific request, people will be less likely to follow through with their donation.
When you initially launch your campaign a problem you may face is the inability to get your first big donation. You may have dozens of large donors expressing interest to you, but no one has actually come through donating funds. They are usually waiting for someone else to be the initial large donor. This reduces their risk. They feel more comfortable donating after they see that other reputable donors have already committed. This is where choosing the right platform is important. A reputable equity platform will help ease investors' minds. Also, continuing to build interest and spread the word will be very important to continue the projects momentum.
Crowdfunding has gained a lot of popularity in the past few years and the best is yet to come. We have yet to see very much from equity fundraising, which is starting to grow. Even if you aren't launching a crowdfunding campaign at this time, it is something to consider for the future if you need to raise capital. It is the future of fundraising and it could potentially make or break your startup business.