The Long-Term Cost of Poor Customer Service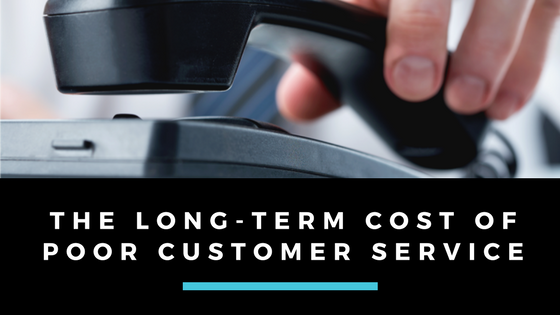 Poor customer service is the fastest way to lose customers and can hurt your business more than you think. Businesses are losing an excess of $80 billion per year in the US and $300 billion worldwide through poor customer service. 89% of consumers who experience poor service will switch to another brand. What's more, nearly 7 in 10 consumers (68%) said they would not go back once they switched.
It's clear that undervaluing customer service is a risky strategy. Poor customer service is expensive and the following are long-term costs that can lead to a business' failure:
1. Damaged Reputation
Warren Buffett once said, "It takes 20 years to build a reputation and five minutes to ruin it." Your reputation is what establishes your brand and drives revenue growth. To a large degree your reputation is a measure of trust and unfortunately, a bad one can stick around for a long time.
Today's consumers are quick to share negative feedback when they have a bad experience with a business. In a recent study, 95% of respondents said they usually tell at least one other person about a bad customer experience with a company, while 54% said they share it with at least 5 other people.
2. Conversion Rates Are Impacted & Customer Lifetime Value (CLTV) Drops
Poor customer service kills conversion rates. It directly affects whether or not consumers actually complete a purchase they set out to make. In fact, 78% of consumers have abandoned a purchase that they intended to make because of poor customer service.
9 out of 10 consumers say they're willing to pay more to ensure a good customer experience and as much as 70% will continue to do business when a complaint is resolved. Keeping current customers costs considerably less than acquiring new ones, and poor customer service can destroy your average customer lifetime value.
3. Increased Price Sensitivity
63.9% of consumers consider customer service to be more important than price when deciding whether or not to do business with a company. And 55% would actually pay more to guarantee better service. But, poor customer service also directly affects how sensitive consumers are to a change in price.
Research from TARP Worldwide, published in Customer Experience 3.0, found that additional problems increased consumers' sensitivity to price, price changes, and additional fees. TARP also found that increased product prices or service fees bothered only 10% of consumers who didn't experience service issues. However, almost 50% of consumers that had two or more service problems were unhappy about price hikes and were less likely to stick around when they occurred.
Keep in mind; customers are 4 times more likely to stop doing business with a company for a service-related issue over pricing or product concerns. Customer satisfaction is key. This is true for any business, no matter where you are or what kind of products or services you are offering.
If you are looking for assistance when it comes to customer support for your business, BMT Micro may be a solution for you. We have a highly trained customer service department that is quick to respond to customers' and vendors' inquiries. They are always available to answer any questions or concerns that you may have. Our customer service team handles all questions related to the payment and ordering process; however, for technical support (for instance how to play a specific game), customers are referred to the developer of the software or product. If you would like to learn more about the services we offer, please contact our vendor services via email at vendors@bmtmicro.com for more information.