How To Convert Seasonal One-Time Shoppers Into Repeat Customers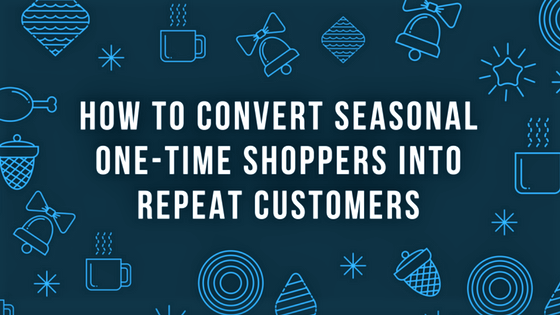 Holiday sales are typically viewed as one-time transactions, but your relationship with these shoppers doesn't have to end once the seasonal rush is over. While it may be tougher to convert seasonal shoppers into repeat customers, it costs considerably less to try and keep them versus attracting and converting new ones. The holiday shopping season actually provides a unique opportunity to hook seasonal shoppers and convert them into returning and loyal customers.
The following are 3 tips on how to convert seasonal one-time shoppers into repeat customers:
Email Marketing
Many businesses make the mistake of blasting new customers with promotional emails right off the bat, but this is not best practice. You will not develop a worthwhile and lasting relationship with new customers by doing this. Nurturing emails actually get 10 times more responses than regular promotional emails. So, you should try to send a welcome email to any new customer within a few days of their purchase. This will warm them up to your brand and messaging.
Takeaway: Focus on creating nurturing emails for your new customers to keep them more engaged and receptive to future promotional emails.
Segment Customers
Segment your new customers from your regular customers, and create a communication plan for each. You should define a clear communication strategy for each segment and target them separately. For example, send out targeted emails to new customers to tempt them back to your site and focus your messaging on converting them into a life-long customer. For regular customers, send personalized cross-sell and upsell product recommendations, or even a seasonal promotion based on their past purchases.
Takeaway: Regular customers should be receiving different targeted emails or ads than those who have only purchased from you during the holiday months.
Reconnect in January
As we mentioned earlier, it is not best practice to bombard new seasonal customers with promotional emails right after they make a purchase. Instead, focus on encouraging old and new customers to come back with special promotions in January and throughout the new year. It is also a good idea to follow up with new customers to see if their purchase was well received and send them an incentive to make that all important second purchase.
Takeaway: Focus on reconnecting with new customers in January with incentives to bring them back.
Don't let your seasonal shoppers turn into one-and-done sales. Focus your efforts on staying relevant and keeping customers engaged even after the holiday shopping season. With just a few key strategies in place, you can successfully convert your seasonal one-time shoppers into year-long customers.