Beat The Heat: How To Deal With A Summer Sales Slump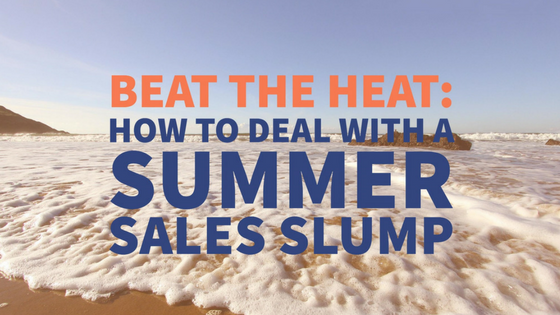 The summer months are just around the corner for the northern hemisphere. Is your business prepared?
As the temperature begins to rise, most businesses experience a traditional decrease in sales during the summer months. Some reports show that July is the slowest month for e-commerce – down 30% from top sales months like December. However, this downtime isn't necessarily a bad thing.
There are many ways businesses can reduce or eliminate the impact a slump can have on sales and profitability to drive their business forward for the rest of the year.
Prepare for the holiday rush
Although it may feel entirely too early to be talking about the holiday season, anyone will tell you that it's impossible to be too prepared for the busiest and most profitable time of the year. With the day-to-day hustle of running a business, it can be easy to forget approaching holidays. But the last quarter of the year sees the most increase in the number of orders and average order size. Planning ahead is always better sooner rather than later and it will ensure that your business has all the materials ready to make the most of the holiday rush. Plus, having everything in place and ready to go will reduce your stress and make the season go more smoothly.
Create New Content
In order to connect with your prospects, get them to your site, educate them in their buying decision, and convert those prospects into customers – you need a strategy for your content marketing. Things get busy as the holiday season gets closer and your content needs to stay fresh, relevant, and distinctive. Creating new content will be the last thing on your mind so use this downtime to prepare content ahead of time for the holidays. Your design and graphics are other important factors that will help tie your campaigns together and keep them consistent. Getting this done early can be a major task of your shoulders when a busy sales season comes around.
Reconnect & Grow
When things get busy, it's easy to fall out of touch. Summer is a great time to reconnect and check in on customers you haven't heard from in a while. Use the summer to build relationships with existing customers and stay connected with your community. Your customers can be one of the best low-cost advertising investments you can make. If you create a customer experience that actually adds value it will ensure a positive reputation with them going forward.
It can be frustrating to see sales slowly drop, but the fact of the matter is every business goes through slumps. Use the downtime to your advantage and make use of the off-season to recharge your business.
If you are looking for more ways to improve your online sales this year, BMT Micro is here to help too. We have a reliable, cost-effective solution that is flexible enough to meet your needs now and well into the future. We have several plans for you to choose from, or we can customize our plans to suit your needs. If you have any questions or if you are interested in learning more about our offerings please contact our vendor services at vendors@bmtmicro.com.