Annual vs. Monthly Subscription Billing: Which One Is Best For Your Business?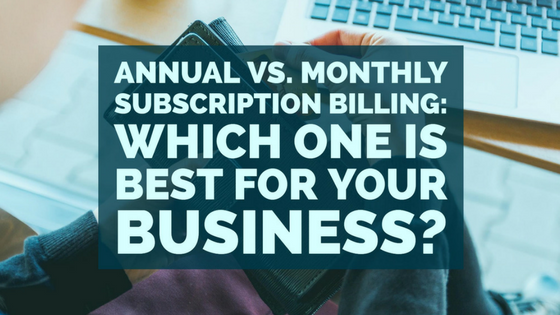 Subscriptions are a great way to offer customers a simple and hassle-free shopping experience. But, deciding the right billing plan for your subscription is key to success. For most businesses, this means using an annual billing plan or charging customers on a monthly basis. Both revenue models have their own pros and cons as well as a dramatic impact on customer acquisition and retention.
The following are some things to consider when determining which option would work best for your business:
Annual Billing Plan
Provides a full year of revenue up front
Customer retention is guaranteed for at least one year
Churn rate is lower than monthly billing
Allows long-term planning and business stability
The number of potential chargebacks is lower, but customers have more time to issue one
A large, upfront payment and commitment can sometimes dissuade customers
Less interactive
Monthly Billing Plan
Lower barrier to entry and less risk to customers that may be uncomfortable with an upfront annual commitment
The upfront cost is lower for the customer which can increase acquisition numbers
Customers have less time to issue a chargeback but there is a higher risk of chargebacks occurring
The probability of churn is much higher than annual
Monthly billing makes it easier for customers to cancel
Monthly payments are also vulnerable to credit cards expiring or being declined
More interactive
Annual plans offer a number of advantages from a cash flow standpoint, but monthly plans allow customers to feel more in control of their options. Ultimately, the best subscription billing plan for your business will depend on your specific product and the preferences of your target audience.
Here at BMT Micro, our system allows products to be set up as recurring billing/subscriptions where our system rebills the customer automatically based on the frequency set in the product (monthly, quarterly, annually, etc.). Subscription products can also be setup to allow for discounted subsequent billings, credits towards other products and/or reduced-price purchasing of other products. We are a full-service e-commerce provider and aim to be more accessible & dependable than the average e-commerce platform. Here at BMT Micro, we have all the tools your business will need to run a successful subscription program and more. Get started with BMT Micro today and we'll take care of rebilling your customers when necessary so you can concentrate on growing your business. To learn more please contact our vendor services at vendors@bmtmicro.com for additional information.