Amplify Your Business Growth by Delighting Customers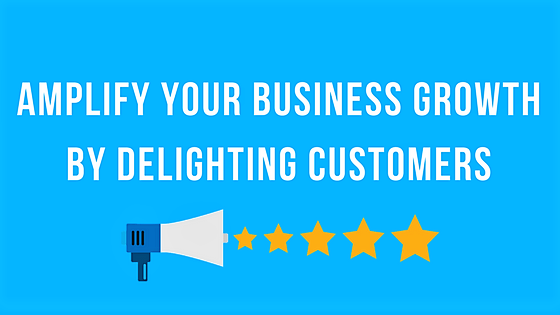 With thousands of e-commerce sites launched every day, making sure your online business stands out from the crowd is vital. Having the best solution is no longer enough to keep customers attention and loyalty. "If you're serious about your future success and the growth of your business, you have to focus just as much on service as on sales and invest in delighting customers" (Sujan Patel).
But what exactly does investing in 'delighting customers' entail?
'Surprise and Delight' is "an approach that brands use to re-engage customers and reinforce messaging with unexpected rewards. These activities help brands differentiate their high-quality loyalty initiatives from the competition, and also do wonders to generate buzz and Word-of-Mouth. If implemented successfully, surprise and delight offerings can impact critical metrics such as engagement, customer acquisition, and retention rates" (CrowdTwist).
'Surprise and delight' doesn't have to be a costly effort. If you take a look at some of the research on what drives delight, you can see that customers expectations are actually quite feasible (see graph below).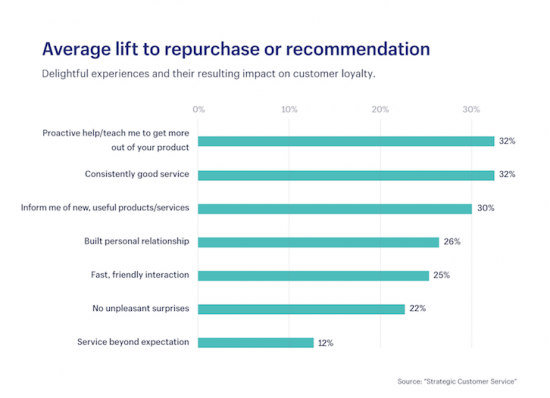 So, how can your business offer a delightful experience that will leave a lasting impression? The following are 3 of the most popular online surprise and delight campaigns:
Freebies: Everyone loves free stuff. Sending a free gift to customers who have bought from you is a great way to surprise those who have supported your business in the past. This can also renew interest in your products or services.
Thank You Notes: Handwritten thank you notes are a powerful way to express your appreciation to customers for their business. It's also a great way to make a memorable first impression on your newest customers.
Personalized Offers: Personalization allows businesses to connect with users on a more in-depth level, craft custom user experiences, and target loyal customers. Businesses can motivate repeat sales and increase loyalty by sending customers personalized offers that include an exclusive discount.
Adding a surprise and delight offering to your marketing strategy is a great way to gain customer loyalty while also lifting your bottom line. And, if employed effectively, it can generate increased engagement, reduced churn, and greater ROI. By showing genuine appreciation and delivering a noteworthy experience, your business can enhance your connection to customers.