Alternative To Steam: Why You Should Consider Selling Your Game Directly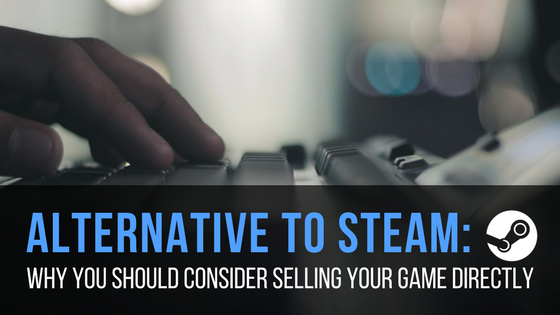 The ability to sell and deliver your game online is typically one of the toughest aspects of game development. But, this has become a lot easier in recent years due to digital distribution changing the way we buy and sell video games.
In digital gaming, one of the most popular distribution channels for developers is Valve's Steam platform. Steam started for commercial games in 2004 and was extended in 2012 to include Steam Greenlight, a service for independent games to be published. Due to Steam's size and popularity, it can be an important component in an e-commerce strategy. The following are a few advantages of Steam:
Advantages:
Steam has over 40 million players worldwide.
Steam takes care of hosting and bandwidth costs.
Steam offers non-exclusive contracts.
But despite its popularity, Steam does have some disadvantages.
Disadvantages:
Valve doesn't publish their commission rates, but it is likely that you will be paying at least 30% royalties for each transaction.
The Steam client is a required download in order to purchase and play your game. This can be a barrier to purchase if users do not want to download it.
A common misconception is that Steam by itself will handle marketing for you. Hundreds of developers are all trying to get their game onto Steam, which leads to discoverability issues. This means it's easy to drown in a sea of other games when trying to promote your game's page.
While there are some games that do enormously well, a closer look at the sales data reveals that most games on Steam actually don't do very well at all (gamesindustry.biz).
Valve is getting rid of their Greenlight program (where fans can vote on what games they want to see on Steam) this year by introducing Steam Direct. If the Steam Direct changes go through, getting your game on Steam will costs between USD$100 to USD$5,000 (Valve has not yet announced exactly how much). And, if your game doesn't sell, Steam keeps the fees.
Selling Your Game Directly With An E-Commerce Partner
Steam is not the only viable option for digital distribution in the gaming industry. Your website is the best place showcase your game, without the limitations of marketplaces and distribution channels such as Steam. Working with a direct e-commerce partner provides you with the means of setting up a storefront to handle selling your game through your own site.
The benefits of doing this are:
Typically, commission costs for direct e-commerce channels provide better margins than Steam. You get to keep over 90% of the direct sales money. Not 70%, not 80% but 90% (Cliffski).
You can generate direct traffic from search engines and media publications with your website.
You can set up an account with these direct e-commerce services right now. Most have zero sign up fees, and it can be done almost instantly (Cliffski).
You get the customer's email address. With these email addresses, you can send newsletters, press releases, etc. to every person that has ever purchased your game.
While there are some advantages to getting your game on Steam, it should not be the only component of your e-commerce strategy. It may take a while to get enough people to purchase your game through your website. But, if you drive enough traffic to your website, you will begin to see all of the benefits from selling your game directly.
Here at BMT Micro, Inc., we offer a full-service e-commerce solution that will meet all of your business requirements. Our proprietary systems (all created in-house) have everything you need to sell your game or software online. If you would like to learn more about our services or if you have questions, please feel free to contact our vendor services via email at vendors@bmtmicro.com or visit our website at www.bmtmicro.com.
Interested in signing up with BMT Micro today? If you would like to go ahead and explore what working with a direct e-commerce partner is like, you can do so by signing up here: New Developer Sign-up. Please note: you can sign up and create an account with no costs or commitment. You are under no obligation when signing up with us. BMT Micro charges a % of the commission for each sale so if you never sell anything, you do not owe anything.