6 Ways To Minimize Holiday Chargebacks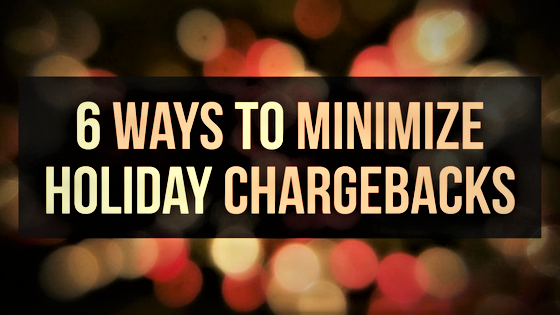 The holiday season can be an exciting time for online businesses, especially since some make up to 40% of their yearly revenue during this time. But, what most online businesses don't prepare for are the holiday chargebacks that begin to roll in after the start of the new year.
Chargebacks spike during this time of year partly as a result of the high volume of online transactions, and partly due to increased fraudulent activity. Regardless of the reason, chargebacks are costly and can ultimately wipe out your seasonal profits. But, there are a few things your business can do now to minimize holiday chargebacks and reduce their impact later.
Check where orders are coming from. Make sure IP location and credit card address match up. If the information doesn't match up, you should be wary and at least question it with the buyer.

Verify multiple orders from the same credit card, especially on unusually larger than normal and/or high-priced orders.

Always require the credit card's security code. Also, make sure to verify the CVV code and billing address with a sale.

Check suspicious and/or fake email addresses. Fraudsters often use disposable emails accounts from domains that require minimal information to register.

One best practice is to keep accurate records, including confirmation of both product purchase and delivery, so you are prepared to dispute a chargeback if one should occur.

Consider using a company that offers fraud-prevention technology and services that work to minimize any chances of chargebacks.
Chargebacks are an 80 billion global issue that is increasing by around 20% each year, but they don't have to ruin your holiday season. You can protect your business from chargebacks well into the new year by taking the preventative steps we mentioned.
BMT Micro can also help your business handle chargebacks during the busiest time of the year! We manage refunds, charges, and chargebacks for our customers. We also have a state-of-the-art fraud detection system that automatically screens orders and puts questionable orders through a manual approval process. If you have any questions or if you are interested in learning more about our offerings please contact our vendor services at vendors@bmtmicro.com.