3 Social Media Best Practices For Online Businesses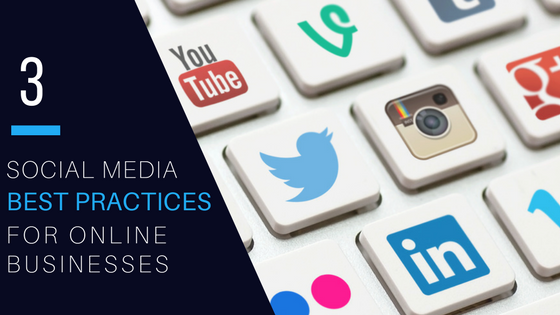 Social media can enable an online business to achieve many of their marketing goals. That is when it is used correctly. Your presence on a social network should be purposeful and your social efforts need to be well-thought out. Otherwise, you can end up wasting valuable time on a platform that isn't going to produce results for your business.
Social media a great way to increase brand recognition and loyalty, improve organic search engine rankings, and even build an engaged customer base. But, this is only true when an online business actually considers social media a strategic marketing tactic and takes it seriously.
Here are 3 best practices to help you get started:
Always Respond to Customer Inquiries
Nearly half of all US consumers use social media platforms to ask questions to a business or report a complaint. Your business can significantly make customers happier just by responding to those who reach out. If you don't have an answer to a customer's inquiry, you should at least let them know you are looking into it. You need to be active and interactive to be successful on social media. Always reply to customers even if it's just a "thank you" or "you're welcome" or "glad you liked it." It's that simple.
Create Valuable and Engaging Content
Your social media efforts should be fueled by valuable and engaging content. It's also best to create your own. You should consider utilizing the following:
Visuals
Research shows that content with relevant images gets 94% more views than content without relevant images. Keep in mind, visuals on social media can come in forms other than photos (like infographics, quotes & charts) and still can generate traffic, shares, and links to your website.
Hashtags
Hashtags give your online business an unique opportunity to connect with different audiences and implement new branding strategies. They are a great way to make your posts and tweets as "findable" as possible. But, you need to be careful not to go hashtag overboard. Just like any other marketing technique, there are right and wrong ways to use hashtags.
It's important to learn what types of content are most popular with your target audience, and utilize those in your social media strategy. Over time, you will be able to identify which content has the highest engagement rates so you can focus your efforts on what brings the best value.
Track Everything and Monitor Analytics
Social tracking allows your business to adjust your efforts as necessary so you can maximize exposure. You need to make monitoring your analytics a habit. Social media and content analytics can help you determine what is actually driving traffic and giving your business the best results. Plus, it helps your business learn more about who your audience is, what they care about, and how to best interact with them.
The proper use of social media entails posting, sharing, liking and commenting, but it also includes tracking and reporting. You need to find out which strategies are good for your type of online business and which are not. These best practices can help ensure your social media efforts are getting your online business more exposure, visitors on your website, and customers.