Prepare For a Very Digital Holiday Season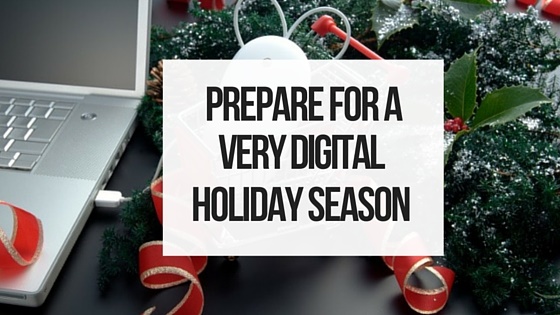 The holiday season is the most important and profitable time of year for an online business. The last quarter is the time where businesses see an increase in the number of orders and the average order size. And as we've mentioned in one of our previous blogs, some online businesses make up to 40% of their yearly revenue in the last quarter alone. But holiday shopping is starting to change. According to NRF, almost half of holiday shopping, consisting of browsing and buying, will be done online: average consumers say 46 percent of their shopping (both browsing and buying) this holiday season will be conducted online, up from 44 percent last year. Which means businesses need to be prepared for a very digital holiday season.
This checklist should help prepare your business and cover most of what you need to know.
Decide which holidays you want to participate in
The last quarter of the year is packed with holidays and nearly every week in November and December have a holiday an online business can participate in. However, trying to participate and prepare for all of the upcoming holidays would be madness. So the first step for any business is to familiarize yourself with the upcoming holidays and decide which ones make the most sense for you to participate in. If your business hasn't made this decision yet, or if this if your first time doing a major holiday promotion, we recommend only choosing to participate in two or three holidays (i.e. Black Friday, Cyber Monday and Christmas).
Plan out your return policy and additional payment options
There is a chance your business may want to reconsider a few policies in light of the holiday season and to stay competitive. Many businesses will offer more flexible exchange policies and extended returns. But you will need to take into consideration if this is a smart move for your business based on the impact it can have on sales and your already established policy. Make sure to display this information on multiple pages on your site to ensure customers are aware of your policies.
Now is also a great time for an online business to consider any additional payment methods. Offering multiple payment methods can lead to a nice bump in your conversions and can also attract a larger audience to your business.
Determine which ad channels you want to focus on
The ad channels you choose to market your promotions is one of the most important parts of preparing for the holiday season. Marketing campaigns have a lot of components to be effective and need to be in alignment to achieve any sort of success. As we have previously mentioned, it is a good idea to prepare and plan marketing campaigns ahead of time since it's impossible to be too prepared for the busiest season of all.
Update your homepage
Make sure that anyone who visits your homepage in the days leading up to the holidays knows about the deals you are offering. You can do this by adding relevant banners and calls-to-action. If you want to take it a step further, consider adding a countdown clock to build excitement and a sense of urgency.
Make sure your customer service is prepared for the holidays
It is likely that the holiday season will be when your business receives the most questions from customers. Customer service is vital to the success of an online business, especially during the holidays. In order to provide a fantastic customer service experience, having a quick response time is crucial. It is also important to make sure your customer service staff is being courteous and respectful in their responses at all times. Make sure to take the time to properly train workers before the holiday shopping season hits to ensure they are confident in their roles when things get busy. Another thing you can do to save your staff some time is to prepare a few canned responses for frequently asked questions.
Track Everything
Without properly tracking your efforts, you will always be guessing the true success of your marketing efforts. If your business hasn't already set up Google Analytics or a similar analytics program on your site, now is the time. It is also important to understand how to use campaign specific tracking to better manage the results of individual campaigns and ad channels. Setting this up will allow you to start monitoring your campaign results so you can modify your promotions while they are active to ensure success.
The holiday season is a great opportunity for your business to learn from mistakes, failures, and successes. The lessons you learn are worth more than any amount of revenue you make during this period. This is why it is so important to track everything and focus on what worked and what didn't. Preparation, planning and starting earlier rather than later, are all key factors to a successful holiday season. Furthermore, having everything in place will reduce your stress and make the season go more smoothly.
Here at BMT Micro we can also help better prepare your business for the quickly approaching holiday season. Our system can be used to setup many different discount schemes, offer multiple payment methods to your customers, and our highly trained customer service staff is here to assist your customers with the ordering process. We offer Marketing services as well, so please feel free to contact us for more information.