Find Your Personal Pot of Gold with BMT Micro
Most of us celebrated the Irish holiday, St. Patrick's Day, this week by wearing green and pinching those that did not. Others may have commemorated the holiday by searching for an alleged pot of gold at the end of a rainbow. Despite what our eyes may see, the famous Irish Iore is based on a bit of trickery – there is really no end to a rainbow. Rainbows are actually full circles and the Earth itself blocks our ability to see the complete circle. Although, when you invest with BMT Micro, it is simple to find your pot of gold at the end of our rainbow.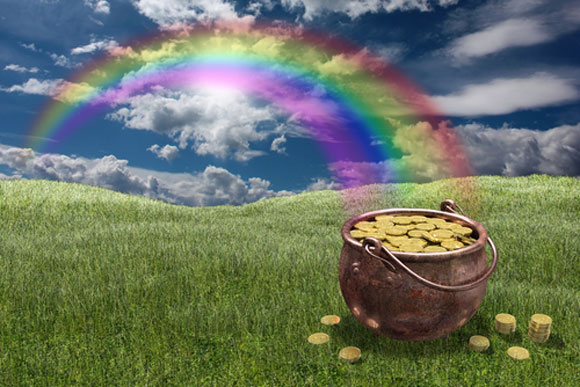 BMT Micro can help lead the way to your own personal pot of gold by handling all of your payment processing over our secure sites. BMT Micro gives you the ability to offer your customers various payment options. Today, offering multiple payment methods is especially important because if a payment option is unavailable that your customer specifically likes or feels comfortable using, it is more likely they will abandon their cart and you miss a sale. Setting up different payment options can be difficult for individual vendors. It typically involves a long, complicated process of compliance with banks and/or other applicable rules and regulations. This can lead to a barrier on your payment rainbow. Using a company like BMT Micro who offers many methods of payments including ten different credit card types, PayPal, Amazon Payments, Money Orders/Cashier Checks (US Funds Only), Visa/MC Debit Card (UK Debit Cards), paysafecard, or wire transfers in Euros can be very beneficial. BMT Micro can help lead the way down your payment rainbow by increasing your sales and reducing your cart abandonment.
You can also follow your payment rainbow globally to expand your pot of gold. The internet has allowed companies the access to international markets, creating a global presence for businesses. Localizing and expanding your international reach is beneficial when you are looking to increase your number of customers and profit. To expand your pot of gold in this sense, it is easiest to use a reliable company like BMT Micro to handle the International transactions for you. International laws can vary, some may be lenient with international consumerism but others may be very strict. When selling internationally you need to be able to adjust quickly to varying exchange rates and adhere to international taxes, tariffs and fees. BMT Micro can offer a simple solution and handle all of this for you!
It is essential for eCommerce companies to protect their site, and more importantly, their customers sensitive information. Using a payment processor like BMT Micro can also save you the time and the expense necessary to keep fraud to a minimum and your customers information safe. BMT Micro adheres to all Payment Card Industry Data Security Standards so you can concentrate on your products and customers, knowing their information is safe and secure. We maintain PCI compliance, and are scanned quarterly for both PCI compliance and network security. With BMT Micro, there is no need to to dig into your personal pot of gold to purchase an expensive shopping cart system. BMT Micro's proprietary shopping cart system is versatile and robust. In addition to the shopping cart, all BMT Micro servers are fully secured and host all shopping carts using the highest encryption standards available. There is no need to worry about the expense of a secure certificate with BMT Micro!
Are you still looking for the pot of gold at the end of your payment rainbow? What are you waiting for? Signing up with BMT Micro does not cost you a penny! There are absolutely no setup fees or hidden charges. Best of all, you can begin selling almost right away! Here at BMT Micro our number one focus is on our vendors and their customers being satisfied. We strive to continue to protect you against any threat, as well as be innovative to keep you ahead of your competition. We are here to help lead the way down your payment rainbow to your own personal pot of gold!