Utilizing Twitch For Your Marketing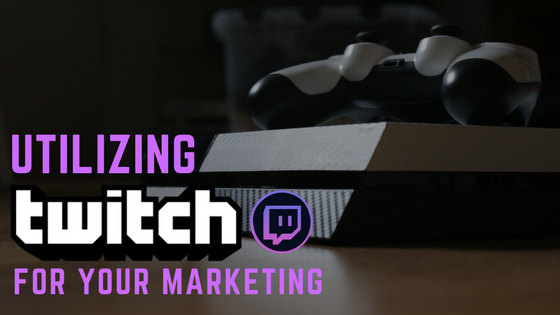 Live-streaming video content has really begun to gain traction. According to Cisco's June 2016 Visual Networking Index report, streaming video accounts for over two-thirds of all internet traffic, and this share is expected to jump to 82% by 2020. Furthermore, streaming video content online is becoming the most accessible way to consume entertainment.
As video streaming (for video games, hobbies, and more) grows, so does the popularity of live streaming. As we mentioned before, businesses do not need to put up a significant investment to try live video streaming with the growing availability of inexpensive and free applications. One of the best examples of this is Amazon's late 2014 acquisition, Twitch.tv.
What is Twitch.tv?
Twitch.tv is "the biggest destination hosting channels for live streaming today. It began as a video game live-streaming platform and was acquired by Amazon in 2014 just under $1 billion. The viewing experience is full of information and features to hold your attention; in most cases, you'll see a live feed of a game environment, with a smaller window in any given corner showing a view of the gamer at work, sitting at their monitor with headphones on and microphone at the ready" (Marketingland.com)
According to recent numbers released by the company, Twitch has over two million creators collectively streaming just under 460,000 years' worth of video to an audience of more than 100 million. Twitch's viewers also spend more than 1.5 hours per day on the network.
Originally, Twitch focused on video gaming, including playthroughs of video games, broadcasts of eSports competitions, creative content, and more recently, music broadcasts. Now, though, the company has expanded its offerings to diversify beyond video game streaming as a way to broaden its appeal to audiences and advertisers. "Twitch IRL" was recently launched and "it's not just gaming; there are channels dedicated to watching people create artwork, or eat their dinner – a nod to the South Korean trend of 'social eating'" (Twitch CEO, Emmett Shear).
Advertising & Marketing Opportunities
Typically, Twitch streamers interact with their audience as they are playing, and get paid by the number of viewer subscriptions. But, Twitch recently announced they are adopting a new advertising approach that will "reduce the efficiency" of ad blockers while ensuring a broader reach and more consistent delivery for advertisers.
According to Robin Fontaine, Twitch product marketer, the service's newly introduced SureStream technology "will allow us to improve the video advertising experience for viewers and partners, improve ad deliverability by reducing the impact of third party services that bypass ads, and increase the advertising revenue pool available for partners."
Twitch also announced the company will be bringing live video streaming to the Twitch mobile app enabling users to go live directly from their phone. This update can help Twitch grow into a bigger force on mobile and will keep the platform competitive against Facebook, Instagram, and Twitter.
Twitch has already proven itself a leader in live streaming content and broadcasting there could help your business gain a significant following. With 88% of companies looking to invest in live stream video advertising over the next six months, it's worth taking some time to implement live-stream content into your marketing strategy.