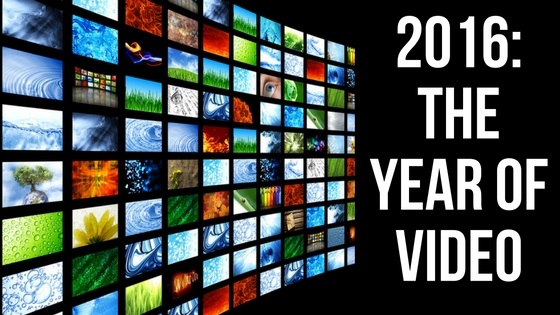 Video is becoming the fastest growing form of online advertising today. Video content is popping up in our social accounts, news, articles, and even our emails. People are engaging with videos on countless platforms, and there have never been more opportunities for businesses to connect with their customers.
Video has taken over the internet, especially with the explosion of mobile video. Recently, research has shown that half of 18-49 year olds turn to their mobile device first to watch video. This is primarily due to the advancement of mobile technology and the widespread adoption of Smart Phones and Tablets. Undoubtedly, the rise of video is not slowing down and businesses should be incorporating it into their branding and marketing strategy (if not already).
It's not all on YouTube
If you haven't noticed, the distribution platforms for video content have drastically shifted over the last year. YouTube is still the grandfather of online video and the undisputed leader in the market. According to VentureBeat, Americans watch an aggregate of 8,061 years of video content on YouTube, compared with just 713 years of video content on Facebook. But, the competition is heating up. With 8 billion daily video views, Facebook is quickly gaining in popularity because it offers better user engagement.
Clearly, YouTube's biggest threat is the rise of social video. Facebook has been investing significantly in video throughout 2015 and 2016, and released features such as video autoplay, live broadcasting and live reactions. Snapchat's daily views are now in the billions, and video on Twitter has taken social listening and engagement to a whole new level. Ultimately, in the next year or two, it will be interesting to see how each platform can outdo each other in terms of video design, tracking, and execution.
Google's Integration of videos ads in SERPs
Last year, Google started testing out new ways of embedding video ads in its search engine results pages (SERPs). This means instead of just seeing traditional text-based ads in search results, video streaming advertisements are also running alongside them. Although, despite Google's reputation for leading new innovations, Bing and Yahoo have already been testing this for a while.
Even with the variety of platforms offering integrated auto-played video and video ad functionality, Google holds a key acquisition for video advertising – YouTube. This gives Google an advantage, but it does not necessarily mean they will become the clear winner in online video advertising. Obviously, video ads are growing in importance and Google jumping on the bandwagon validates this importance and will only accelerate growth.
Relevancy is still key
Despite the growing popularity of video, creating compelling video content can still be a difficult thing for businesses pull off. Our attention spans have, on average, shrunk to 8.25 seconds, so holding consumers concentration is a big challenge. But, video makes this a little easier since the brain processes visual information 60,000 times faster than text.
Ultimately, a video has to be relevant to consumers in order to reach them and effectively promote your business. 90% of consumers say that video helps to complete a buying decision, and for 64%, seeing a video makes it more likely that they will buy a product. But, if businesses don't take advantage of the targeting options various video advertising platforms offer, ads will be shown to people who have no interest in their offering. This is crucial because, without relevance, consumers will likely skip the video or not watch it at all.
The challenge of creating compelling video content can be intimidating, but the possibilities for marketing are almost limitless. Videos are unquestionably becoming significant in our digital world and a necessary piece of a business' marketing strategy.