On-Page SEO vs. Off-Page SEO: Which One Does Your Business Need?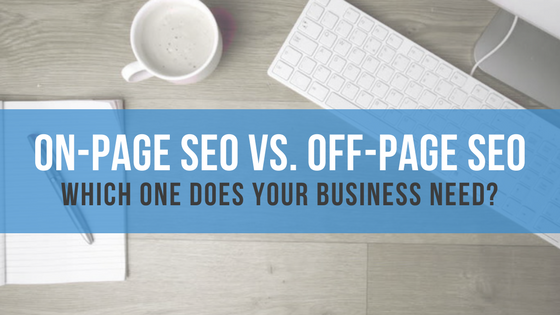 Improving the search engine optimization (SEO) for your website is not a quick or easy task. When it comes to strengthening your digital strategy, there are actually two different methods of optimization a business should utilize – on-page and off-page. These methods are completely different, but they both have great benefits to the optimization of your site.
What is On-Page SEO?
On-page SEO focuses on optimizing different parts of your website that affect your search engine rankings and overall readability of the site. On-page factors determine how easily search engines can index your web pages, understand what your site is about, and navigate the structure and content of your site.
There are a number of different components involved with on-page SEO. Many aspects of on-page SEO aren't necessarily on the page in a literal sense, because they happen solely at the coding level. For example, page load time and mobile friendliness both impact users' experience on your page and influence how your site gets ranked (Remember: Google wants to provide its users with the best, highest-quality content found on the web).
On-page SEO includes:
Page Content

Title Tags & Metadata

Headings (H1, H2, H3)

URL Structure

Page Load Speed

Alt-text for Images & Videos

Internal Links
What is Off-Page SEO?
Off-page SEO focuses on optimizing the pages on your website and increasing your domain authority by attracting link and brand mentions from other websites. Off-page factors determine how high your business ranks in the search engine results. These factors also tell the search engines that your content provides value for its users.
The number and quality of backlinks to your website is the greatest off-page SEO factor. Before Google's Penguin and Panda updates, the number of links was once the primary metric of off page SEO success. Now, link quantity is still important, but the quality of the links you earn is far more important.
The first step to earn valuable links and improve off-page SEO is to start by creating shareable content. Then, your business can focus on increasing the number and quality of backlinks, which in return increases your rank in search engine results.
Off-page SEO include:
Link Building

Guest Blogging

Domain Authority (value of content, quality of links, and social sharing frequency)
On-page and off-page SEO are both equally essential and effective in improving the search engine optimization for your website. Your business can try to use just on-page SEO or just off-page SEO, but we would not recommend it. Using both strategies is the most effective method if you want your website to perform to its maximum potential.