New Year Resolutions For Your Online Business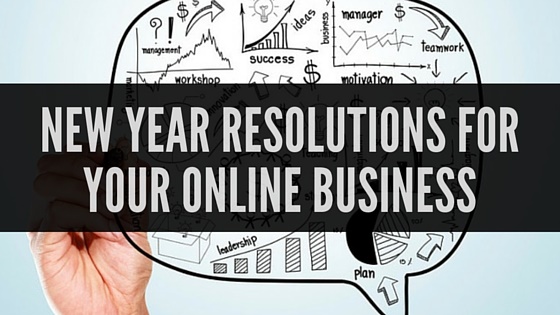 New Year always brings a fresh start. And for businesses, a New Year also brings the opportunity to reflect. Businesses should always take the time to look back at the past year and address current opportunities and problems, areas of improvement, and what did and did not work that year. Even though we are already a few weeks into the new year, it is not too late to establish some 2016 resolutions for your business. If you are struggling to come up with these on your own, here a few simple ones we think you should consider this year:
1. Expanding Globally
When you are selling online, don't limit your reach. Take advantage of the global opportunity with E-commerce and consider transacting business with countries beyond your own. Localizing and expanding your international reach can increase your audience reach and profits. A business can accomplish this is by either displaying pricing in each respective country's currency and converting the currency on your own or setting up an account to accept the country's currency. Setting up your own account can get complicated, and finding the resources to support your localization efforts may be difficult. When you sell internationally you will need to be able to adjust quickly for varying exchange rates and adhere to international taxes, tariffs, and fees. For many businesses, it is easiest to use a reliable E-commerce company like BMT Micro to handle international transactions.
2. Update Your SEO
Typically, you should update keywords on your website each month to make sure they still match the terms people are using to search for your product. More than half of all search queries are now four words or longer so don't make the costly mistake of ignoring long tail keywords. You are more likely to convert shoppers using longer search terms because there are usually farther down the purchasing path.
3. Make A Change In Your Marketing
It is important to evaluate and continue to evaluate your marketing efforts each year. It is crucial for businesses to figure what is working and what is not and adjust accordingly. Analyze your current and past marketing efforts and try something new this year. Analyzing your efforts could be difficult to do internally due to either a lack of resources or not knowing where to start. A simple solution for this would be to outsource. Here at BMT Micro, we have recently begun offering a Marketing Analysis and other marketing services to our vendors. If you are interested in learning more about these services please contact our Marketing Specialist via email at leah@bmtmicro.com.
4. Enhance Your Unique Selling Proposition
When you are in a highly competitive industry, a Unique Selling Proposition (USP) is critical to a business. A USP is a key component of your marketing, advertising, and overall business. To ensure your USP is still relevant and unique for today's competitive market, businesses need to keep re-visiting their USP. So, take some time this year to work on your USP and clean it up. If your USP sets you apart from your competition, you will be able to put together a better sale and promotional strategy for the year ahead.
What will your 2016 Resolutions be? Hopefully, these gave you a few ideas on what your business can focus on this year. Don't forget, a New Year also gives you an opportunity to review your current relationships with partners or anyone your business is working with. Having the right E-Commerce partner can be an enormous help when you are looking to create a solid strategy for your online sales.
There are a number of things an E-commerce company, like BMT Micro, can do to save your business time and money. With BMT Micro, you can focus on your business while we handle your customers from the point they land on the checkout page through the point of receiving their purchase, and sometimes beyond. There is no need for your business to purchase an expensive shopping cart system. We can create a custom shopping cart to match your website for a seamless transition. We can also handle localization for your customer's convenience as well. We provide more than just the items discussed and to learn more about what we offer please visit our website at www.bmtmicro.com or contact our vendor services via email at vendors@bmtmicro.com.