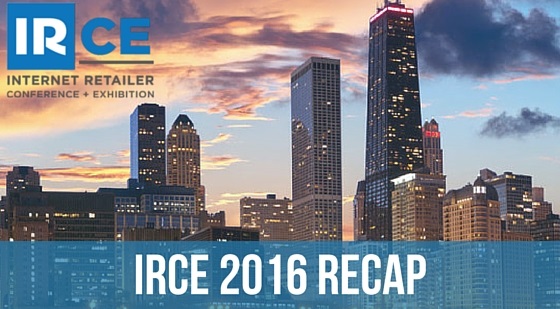 Last week, BMT Micro attended the Internet Retailer Conference + Exhibition in Chicago, IL. IRCE is the largest e-commerce trade show in the industry that includes a 2 Day Conference & 2 Workshops with a variety of sessions and tracks. The IRCE agenda is curated by the expert editorial staff at Internet Retailer magazine. The tracks focused on new e-commerce technologies, e-retail success strategies and marketing must-haves. The exhibit hall featured 600 vendors in nearly every category and covered over 250,000 square feet of space.
We gained key insight from top industry leaders on various strategies and what has worked for their companies. Our main objective was to ensure that we are up to date on all things happening in e-commerce and to grow our knowledge. A few key takeaways and common themes from the sessions and the conference were:
Ecommerce is evolving faster than ever.
Data and Automation Drive the Future of All Marketing Communications – Data should drive your decisions.
Content Strategy – Stop being random with your content.
Sneak Peek: What's Next at Facebook – You need to be mobile optimized & explore video (100,000,000 hours of video are watched every day on Facebook).
CRM Data Can Supercharge Paid Search and Social Targeting – Google vs. Facebook (again, data should drive your decisions).
The Hidden Gold in Post-Purchase Marketing – Drives long-term business and sales growth, higher ROI & ROAS, higher margin, and lower marketing costs with more predictable revenue.
Personalization – Personalized carts & personalized products see better ROI. Make your message authentic.
Responsive – If you don't have a responsive site already, this is the first thing that should be on your company's to-do list.
Overall, IRCE offered a vast amount of learning experiences, insights in e-commerce, and great networking opportunities. Check out our video below for some more highlights and if you have any questions please feel free to contact our Marketing Specialist via email at leah@bmtmicro!