Important Affiliate Marketing Metrics To Track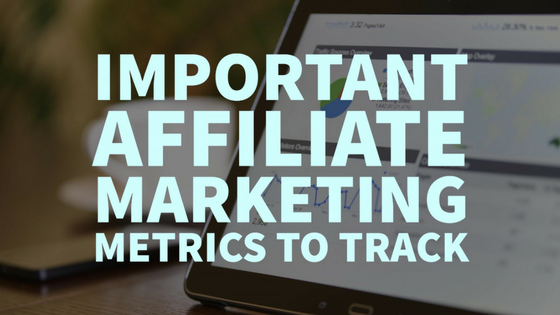 Affiliate marketing can be one of the best methods of entry into the $1.5 trillion global e-commerce market. Affiliates can also ensure the right messages get to the right people at the right time by capitalizing on the following they have. But, if you want to have successful affiliate sales, it's important to keep an eye on your affiliate marketing metrics. These metrics will give you better insight on performance and overall effectiveness of your affiliate marketing campaigns.
Raw Data vs. Derived Data
Many of the same metrics seen in traditional online marketing campaigns are used in affiliate marketing. These metrics should be measurable so you can easily identify what's working, what's not, and adjust your strategy accordingly. At the very basic level, businesses should examine both raw and derived data to assess their affiliate programs. Raw data is unaltered values that have not been processed for use. Examples of raw data include:
Impressions

Clicks

Number of sales

Sales Revenue

Commissions Paid
Metrics that are drawn from raw data and provide a sense of performance are known as derived data. Examples of derived data include:
Click-through Rate (CTR)

Conversion Rate

Average Order Value (AOV)

Earnings Per Click (EPC)

Chargeback rate or total refunds
By utilizing and keeping an eye on the significant affiliate metrics mentioned above, it can lead to driving higher quality traffic and, most importantly, increasing conversions and sales. To achieve the best possible results, these metrics should be monitored and evaluated regularly. You'll also gain a deeper insight into what's driving your affiliate sales and which marketing efforts are working best.
At BMT Micro, we encourage all of our vendors to participate in the BMT Micro Affiliate Program. This free service provides developers with additional channels to promote and distribute their product. Plus there are no additional fees involved! You pay only the affiliates for this service. The developer control panel includes administrative tools that allow you to manage affiliate sign ups, percentage and view sales reports from your affiliates. Furthermore, BMT Micro vendors have access to detailed information on what the affiliate program is all about and how it can benefit their business in our Vendors Area. BMT Micro also handles all your payments to your affiliates.
Interested in signing up for the BMT Micro Affiliate Program today? If you would like to go ahead and explore what our Affiliate Program has to offer, you can do so by signing up here: Affiliate Sign-up. You can also learn more about our Affiliate Program through this link.