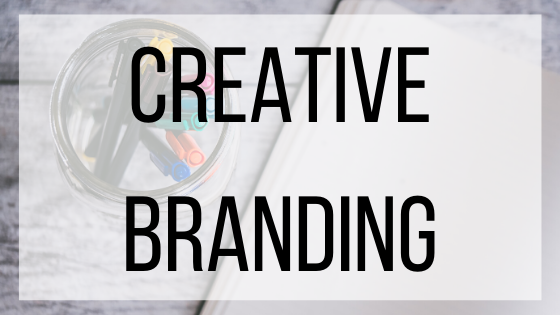 Last week we talked about what a brand voice is, and how to brand your company. There are many steps to help you ensure that you are creating the best representation of your company. Once you have some research done, it is time to get creative! The following steps will help you create a cohesive image that reflects the heart of your brand.
Choose Your Name:
Your name is one of the most defining features of your brand. While you might have brainstormed some names at the very beginning of your process, before your research, now is the time to really consider the best fit for your company. When choosing your name, you will want to think about one that is meaningful, accessible, and distinctive. Choosing a brand name that is hard to remember or too close to another brand name is an easy way to confuse (and lose) customers. Create a new word, re-frame a word, come up with an acronym, or choose a name that has personal meaning to your brand. The possibilities are endless! If you are having trouble, you can always look into using a name generator to help get your creativity going.
Create A Slogan:
Last week, we touched on creating a slogan, but they can be very important to the branding process so they are worth mentioning again. Your slogan is not set in stone, however, they should be memorable enough that your customers relate them to your brand. For example, when someone says, "I'm lovin' it" chances are your mind goes straight to McDonald's. However, choosing a slogan doesn't have to be complicated. Pura Vida Bracelets has the slogan "Live Free", a literal translation of their brand name. If you are running a new marketing campaign, you might change your slogan to match the campaign. Pepsi has gone through many slogans as they grow with new generations, helping to keep them current and a popular soft drink choice. If you find a slogan that works well for your company, don't feel pressured to change it, but if you feel like your slogan needs a refresh, that's perfectly fine too! Keep in mind what your customers are responding to and stay true to your company.
Choose Your Look:
Colors and font play a big part in branding your company. Color psychology is something that can be easy to overlook but is a crucial part of creating your perfect image. Humans love color, and whether or not we recognize it, we associate different colors with different emotions. Think back to the words you used to describe your company. Are you bold? Wise? Do you encourage growth? All of these words relate to different colors. Think about what colors you think best reflect your message, and consider running some A/B tests to see what gets the best response.
Once you choose your color scheme, look into font pairing that will go well with your colors and overall image. Try choosing two different fonts: one for headers, and one for body text. This will make your website easier to read and more aesthetically pleasing. Make sure you choose pairings that complement one another!
The creative process of creating your brand can be a big task, but it also gives you a chance to show off what your brand is all about! Make sure to check in next week to learn how to tie everything together by creating a logo. How did your company choose its slogan? How about your color scheme? Let us know below!