2017 Social Media Marketing Trends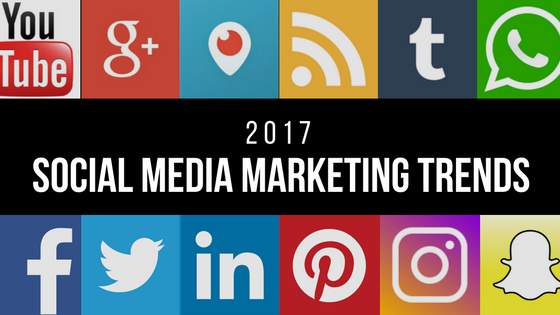 Social media is constantly evolving. Just as soon as you think you have a full understanding of a social platform, the rules change. Right now, 3.4 billion people have access to the Internet and 2.5 billion are using social media. What's more, the number of active social media users worldwide is growing at a rate of 9% a year and does not show any signs of slowing down.
It's clear that social media is here to stay and the future is looking exciting and promising. Advertising on social is rising and spending has grown 55% to $10.9 billion from the previous year's $7 billion (Advertising Age). Some experts have even predicted social media to take over the marketing industry as a whole in the next few years.
This year, there have been many changes in social media marketing trends. So, you can't assume your current marketing efforts will continue to work. It is important to look back at the recent developments so you are not surprised by changes that present themselves in the coming year.
For 2017, the following are a few social media marketing trends you are likely to see.
Chatbots for CRM
Chatbots are designed to simulate intelligent conversation without a human being present. Their prime functionality is to improve real-time engagement and offer flexibility to automate tasks. Chatbots provide a new tool for businesses to leverage and are already becoming a vital way to enhance the consumer experience.
Expiring Content
The success of platforms like Snapchat and Instagram has lead to an increase in popularity of expiring (or disappearing) content. This type of content creates urgency and prevents procrastination since these posts typically only last for 24 hours. In 2017, you can expect to see more social media companies incorporating expiring content in their platforms.
Organic Reach Gets Harder
As a way to monetize their services, Facebook, Instagram, and others are starting to cut back on the organic visibility of brands and corporations. Eventually, brands may see a drastic cut in their organic visibility unless they pay to continue achieving the same level of reach. Facebook has already begun instituting a pay-only platform so you can expect others to also jump on this trend in the coming year.
To ensure social success in 2017, it is vital to watch the changing landscape and keep reinventing your tactics. Social media may still have a long way to evolve, but the changes won't stop here. As time goes on, more trends will emerge so make sure you are ready to capitalize on the new opportunities.
If you are a vendor with BMT Micro and you have questions or need help with your social media marketing, we may be able to help. A Marketing Analysis and other marketing services are currently available for our vendors. If you would like to learn more about the services we offer, please contact our Marketing Specialist via email at leah@bmtmicro.com for more information.